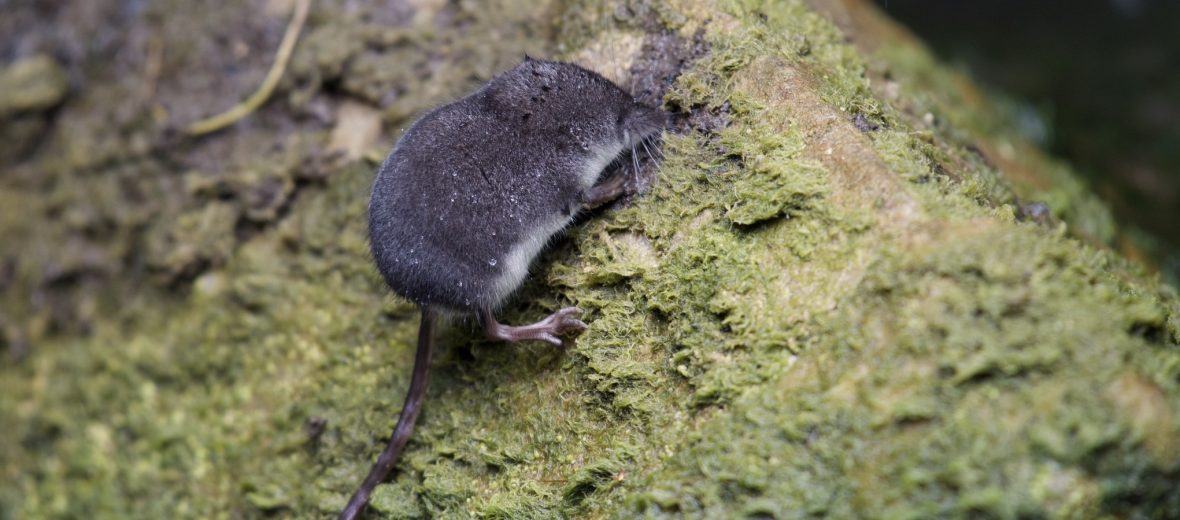 The American water shrew, aka northern water shrew, can be found from Canada down into the United States. They prefer habitats near mud flats, springs, streams, and can even be found in beaver dens. Even though these shrews face the threats of habitat loss at the hands of agriculture, aquaculture, logging, and transportation; pollution; and invasive species (and with them potentially unchecked predation and disease), these critters are still abundant and are therefor listed as Least Concern by the IUCN.
First the Stats…
Scientific name: Sorex palustris
Weight: Up to 0.42 ounce
Length: Up to 2.9 inches, plus their up to 3.1 inch tail
Lifespan: Up to 3 years
Now on to the Facts!
1.) American water shrews are the smallest known mammalian predator in North America.
2.) These shrews are nocturnal (active at night).
3.) They can hunt in the water via vibrations felt on their whiskers. They also hunt via underwater sniffing. This is where they will exhale air bubbles onto a suspected prey item and then re-inhale their own air bubble to sense the presence of their prey.
4.) A group of shrews is called a colony or drove.
5.) Freshwater shrimp, water skaters, caddis larvae, tadpoles, and dragonfly nymphs are all consumed while hunting in the water. When hunting on land, they will prey on earthworms, snails, frogs, and various insects.
But wait, there's more on the American water shrew!
6.) American water shrews breed from February – August. Unlike other shrews that tend to breed later in the year.
7.) Females undergo up to a 3 week gestation (pregnancy).
Did you know…?
American water shrews need to consume more than their own body weight, each night, or risk death by starvation!
8.) Up to 3 litters are born each year. Females are sexually mature at around 9 months of age.
9.) The female births up to 10 young, called shrewlets.
10.) Trout and bass hunt these shrews; while weasels, owls, and domestic and feral cats prey on them, on land.
Now a Short American Water Shrew Video!
Pick up your Critter Science books today, at Amazon!
Be sure to share & comment below! Also, check out the Critter Science YouTube channel. Videos added regularly!
Want to suggest a critter for me to write about? Let me know here.