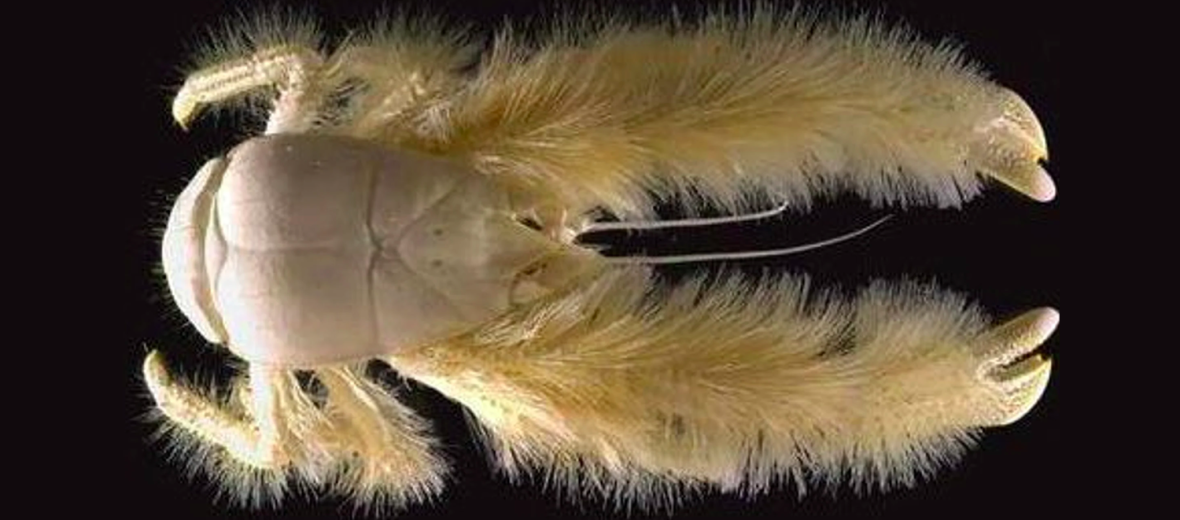 The yeti crab, aka yeti lobster or furry lobster, lives on hydrothermal vents, around 7,200 feet deep in the Pacific Ocean, in 4 locations: the East Pacific, Pacific-Antarctic Ridge, the East Scotia Ridge, and the Australian-Antarctic Ridge. These critters are relatively new to science as the first species was only recently discovered in 2005. These creatures have not yet been evaluated by the IUCN. So, for now they can be listed as Data Deficient.
First the Stats…
Scientific name: Kiwa hirsuta
Weight: Up to 1+ lb.
Length: Up to 6 inches, plus up to 7 inch arms
Lifespan: Up to 20 years
Now on to the Facts!
1.) There are 5 identified species of yeti crab. Kiwa hirsuta, Kiwa puravida, Kiwa tyleri, Kiwa araonae, the 5th has yet to be named.
2.) These critters feed on bacteria and mussels.
3.) They capture the bulk of their food via the hairs on their arms. Bacteria rises from the hydrothermal vents and that bacteria clings to the hairs to be later scraped off.
4.) Considering the great depth in which these crustaceans live, they lack pigment in their carapace – it's white, and they are also nearly blind.
5.) Their genus name "Kiwa" hails from the Polynesian goddess of shellfish of the same name. The specific epithet "hirsuta" is Latin and translates to "hairy."
But wait, there's more on the yeti crab!
6.) Up to 600 crabs can be found bunched together in as small an area as 3.28 square feet.
7.) The temperatures at the depths with which these critters live is a frigid 35.6°F. However, they stay warm due to the vents, which escalate the water temperature to 89.6°F.
Did you know…?
The yeti crab can only move at speeds of up to 3 mph.
8.) The hair on their claws is called setae and is likely used not only to find food, but to also find a mate.
9.) Their claws are called chelipeds.
10.) The bacteria that is collected on the hairs is thought to aid in detoxifying the water filtered through their gills. 1 chemical these crabs eat contains sulfur.
Now a Short Yeti Crab Video!
Be sure to share & comment below! Also, check out the Critter Science YouTube channel. Videos added regularly!
Want to suggest a critter for me to write about? Let me know here.