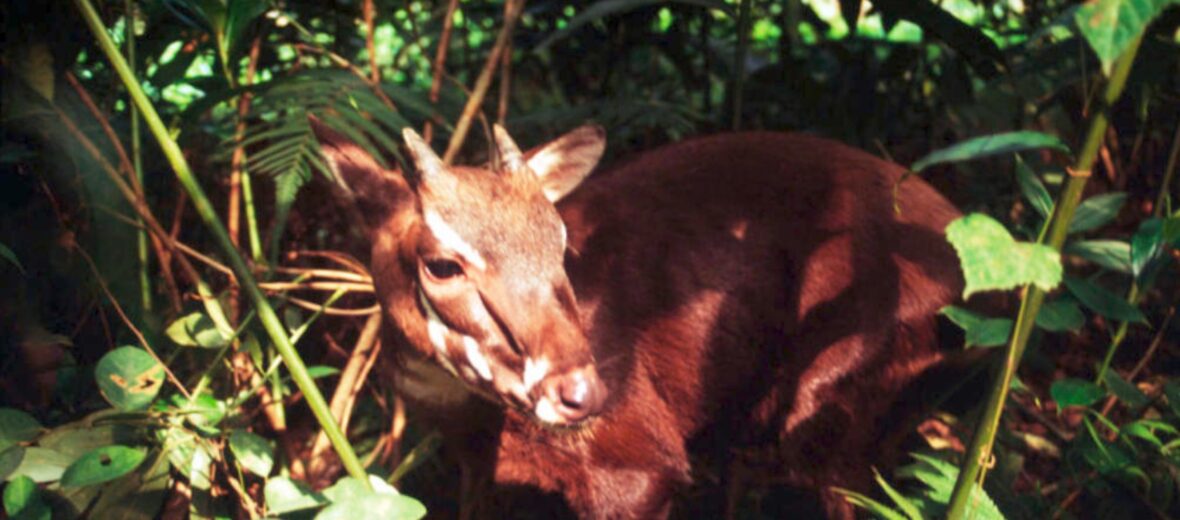 The saola (pronounced: sow-la), aka siola, spindlehorn, Vu Quang ox, Asian unicorn, or the Vu Quang bovid, was recently discovered in 1992. They can be found in mountainous, forested regions on the borders of Laos and north-central Vietnam. Saolas are the first large mammal that is new to science in more than 50 years! Unfortunately, they are listed as Critically Endangered by the IUCN, due to habitat loss, over-hunting, and climate change. There are only an estimated 700 or less remaining in the wild. This article is on special request from Shawn.
First the Stats…
Scientific name: Pseudoryx nghetinhensis
Weight: Up to 220 lbs.
Length: Up to 4.9 feet
Height: Up to 35 inches, at the shoulder
Lifespan: Up to 11 years
Now on to the Facts!
1.) Saola's horns can reach up to 20+ inches long and are present on both males and females.
2.) During winter months, these creatures will migrate to lowland regions to escape the cold.
3.) They are both Nocturnal (active at night) and Diurnal (active during the day).
4.) Even though they resemble an antelope, these critters are more closely related to bovines.
5.) While typically solitary, saolas have been spotted in groups or herds of up to 7 individuals.
But wait, there's more on the saola!
6.) Being generally territorial, they tend to mark their territory by opening the flap of the maxillary gland and rubbing a stinky secretion on vegetation and rocks.
7.) They are Herbivores (eat plant matter) that feed on bushes and leaves of trees, near river beds.
Did you know…?
Due to their uniqueness, an entirely new order has been created just for them.
8.) Females birth a single calf in summer.
9.) The saola are called "saht-supahp" by the Hmong people in Laos; which means "The Polite Animal".
10.) As they have a strictly herbaceous diet, they are also equipped with a multi-chambered stomach and chew their cud to aid in digestion.
11.) Tigers and crocodiles are thought to hunt saolas.
Now a Short Saola Video!
Also, check out the Critter Science YouTube channel. Videos added frequently!
Want to suggest a critter for me to write about? Let me know here.
Learn more about all kinds of cool critters, right here!