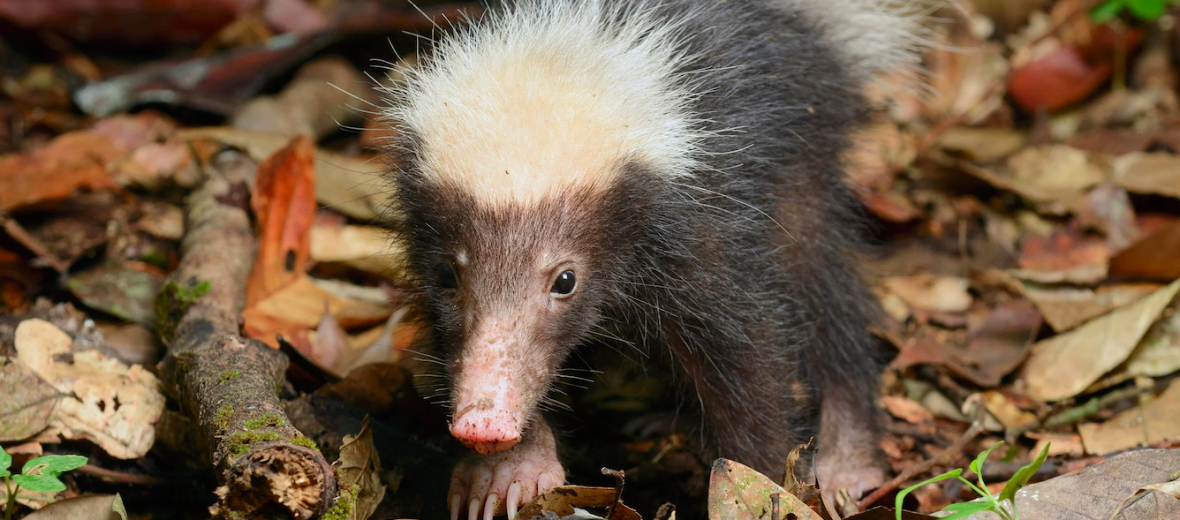 Hailing from Indonesia and Malaysia, the Sunda stink badger (aka Indonesian stink badger, Javan stink badger, Malay stink badger, Malay badger, Sunda skunk, and Teledu) is rather a relative of the skunk; not the badger. These critters don't face any ongoing threats and the fact is, habitat destruction and deforestation of old growth forests might actually be benefiting them. These creatures are listed as Least Concern by the IUCN, with a stable and smelly population.
First the Stats…
Scientific name: Mydaus javanensis
Weight: Up to 7.9 lbs.
Length: Up to 20 inches, plus up to a 1.4 inch tail
Lifespan: Up to 15 years
Now on to the Facts!
1.) They prefer secondary forests and forest edges and can tolerate substantial forest degradation.
2.) These creatures can be found at elevations of 820 feet – 6,600+ feet.
3.) Sunda stink badgers are strictly nocturnal (active at night).
4.) Being omnivores (feed on plant and animal matter), they will feast on various invertebrates, vegetation, eggs, and even carrion (dead animals).
5.) During the day, they will take refuge in self-made burrows measuring up to 2 feet deep, or take over abandoned porcupine burrows.
But wait, there's more on the Sunda stink badger!
6.) Being members of the skunk family, these critters have anal glands that can spray a foul-smelling liquid up to 3.2 feet. Not as impressive as the skunk's spray distance, but effective, nonetheless.
7.) Females birth up to 3 young.
Did you know…?
The milky green secretion of a Sunda stink badger can cause nausea, suffocation, and blindness.
8.) Even though females birth only up to 3 young, they actually have 6 teats.
9.) They are named for the Sunda Islands.
10.) It has been reported that these creatures are relatively accepting of humans, as long as they don't feel threatened and are approached with care. Otherwise, bring on the stink!
11.) Their primary predators are larger birds of prey.
Now a Short Sunda Stink Badger Video!
Be sure to share & comment below! Also, check out the Critter Science YouTube channel. Videos added regularly!
Want to suggest a critter for me to write about? Let me know here.
Think you know a lot about critters? Try your hand at these fun, free quizzes: