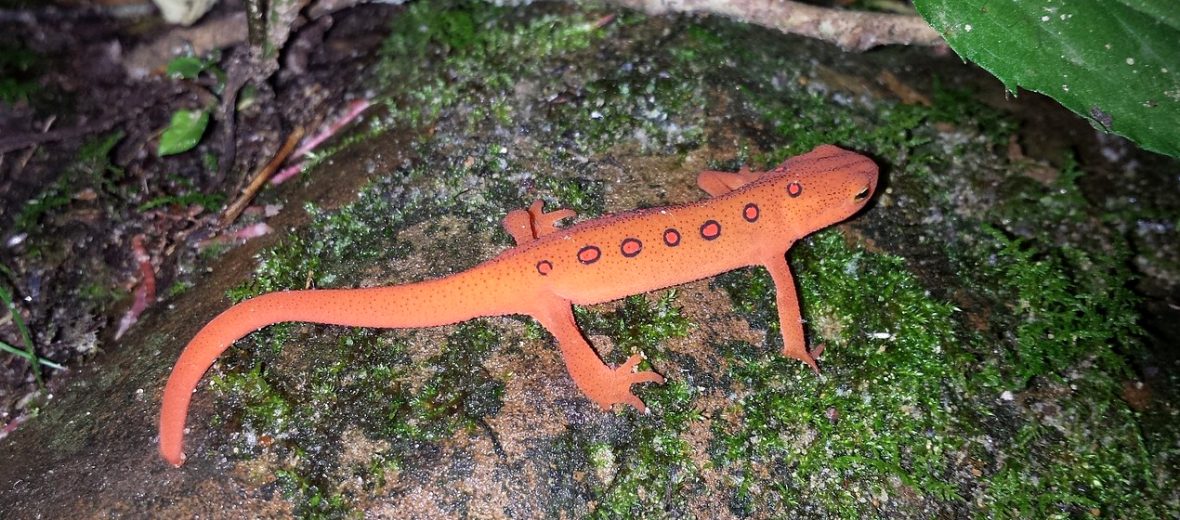 The eastern newt, aka red-spotted newt, can be found throughout the eastern half of the United States and Canada. These critters prefer moist and muddy coniferous and deciduous forest habitats with access to clean water. Like all amphibians, they face the threats of habitat destruction; vehicle strike (being hit by vehicles on the road); accidental poisoning, due to pesticide use; pollution; and invasive species, and with them diseases like the deadly Chytrid fungus. However, these newts are wide spread and abundant, with a stable population. Thus they are listed as Least Concern by the IUCN.
First the Stats…
Scientific name: Notophthalmus viridescens
Weight: Up to 2+ ounces
Length: Up to 5 inches, including their tail
Lifespan: Up to 15 years
Now on to the Facts!
1.) Eastern newts produce tetrodotoxin, as red efts (terrestrial juveniles), which makes them unpalatable to predators.
2.) There are 4 subspecies of these newts: broken-striped, central, peninsula, and red-spotted.
3.) Eastern newts have 3 stages of life: the aquatic larva or tadpole, the red eft or terrestrial juvenile stage, and the aquatic adult stage.
4.) The larvae have gills and don't leave their aquatic environment where they were hatched till ready to metamorphose into an eft. Larvae are brown-green, and they absorb their gills when they transform into the red eft stage.
5.) During the red eft stage, they exhibit aposematism (warning coloration) that warns predators that it would be ill-advised to try and eat them.
But wait, there's more on the eastern newt!
6.) They prey on insects, worms, snails, springtails, soil mites, crustaceans, young amphibians, frog eggs, and a variety of other small invertebrates.
7.) Fish, birds, snakes, bullfrogs, and larger salamanders all prey on these critters.
Did you know…?
The tetrodotoxin produced by these newts is a neurotoxin that can cause paralysis and even potential death, if consumed.
8.) Eastern newts are polygynandrous (males and females mate with multiple partners).
9.) Females lay up to 400 eggs that hatch in up to 8 weeks.
10.) Only around 2% of larval newts make it to the eft stage.
11.) After about 2 – 3 years, the eft locates a body of water and changes into an aquatic adult. The adult's skin is an olive green, with a dull yellow stomach, but they keep the eft's black-rimmed red spots. It develops a larger, blade-like tail and a slime-coated skin.
Now a Short Eastern Newt Video!
Be sure to share & comment below! Also, check out the Critter Science YouTube channel. Videos added regularly!
Want to suggest a critter for me to write about? Let me know here.
Think you know a lot about critters? Try your hand at these fun, free quizzes: