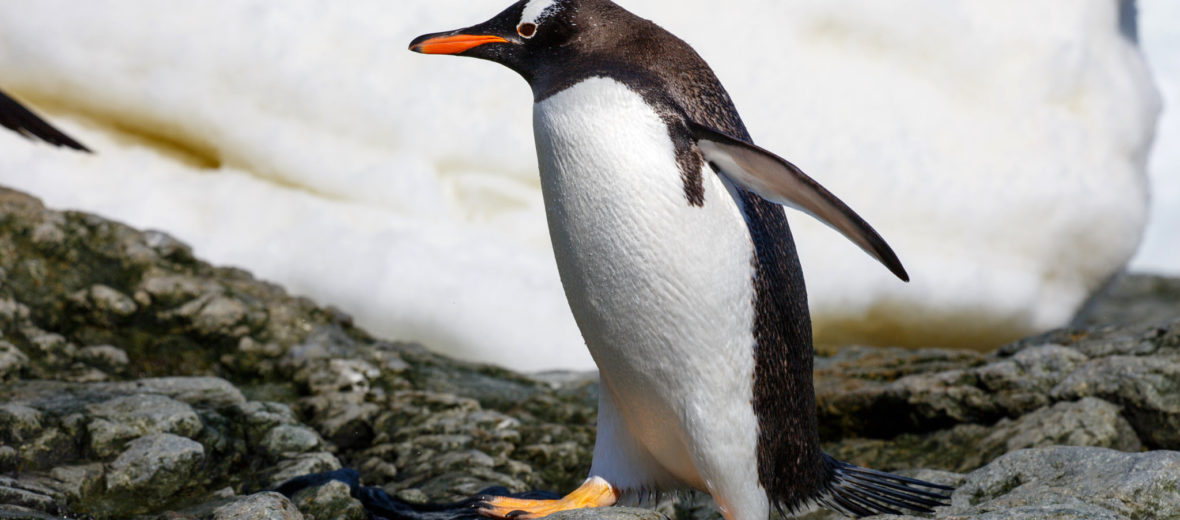 The gentoo penguin is the 3rd largest penguin species. They are easily identified by the white marking on the top of their head and their orange-red bill. These cute critters hail from Antarctica as well as the Antarctic Peninsula, Weddell Sea, Ross Sea, South Georgia, and the Falkland Islands where they thrive there all year long. These birds spend weeks at sea catching their oceanic prey in order to feed their chick and fatten up for their molt. Gentoos are listed as Least Concern by the IUCN.
First the Stats…
Scientific name: Pygoscelis papua
Weight: Up to 13 lbs.
Length: Up to 3.1 feet
Lifespan: Up to 13 years
Now on to the Facts!
1.) Gentoos make up to 450 dives a day looking for a tasty meal. They can dive up to 650 feet.
2.) The gentoo penguin eats krill, shrimp, fish, and squid.
3.) Their predators include: skuas (that steal their eggs and their chicks), seals, sea lions, and orcas.
4.) These cute critters have been observed up to 25 miles out to sea.
5.) Being a social penguin species, they tend to stay with their colonies; even after breeding season.
But wait, there's more on the gentoo penguin!
6.) They build their nests out of pebbles, molted feathers, and vegetation (when available).
7.) The gentoo penguin will only breed in areas where there is no ice. Thus protecting their chicks from freezing.
Did you know…?
During deep dives, a gentoo has the ability to reduce their heart rate up to 100 beats per minute; dropping it down to 20 bpm.
8.) Gentoos can swim up to 22 mph! That is faster than any other diving bird.
9.) The nesting areas of gentoo penguins are called rookeries.
10.) This penguin can hold its breath for up to 7 minutes!
Now a Short Gentoo Penguin Video!
Also, check out the Critter Science YouTube channel. Videos added frequently!
Want to suggest a critter for me to write about? Let me know here.
Learn more about all kinds of cool critters, right here!