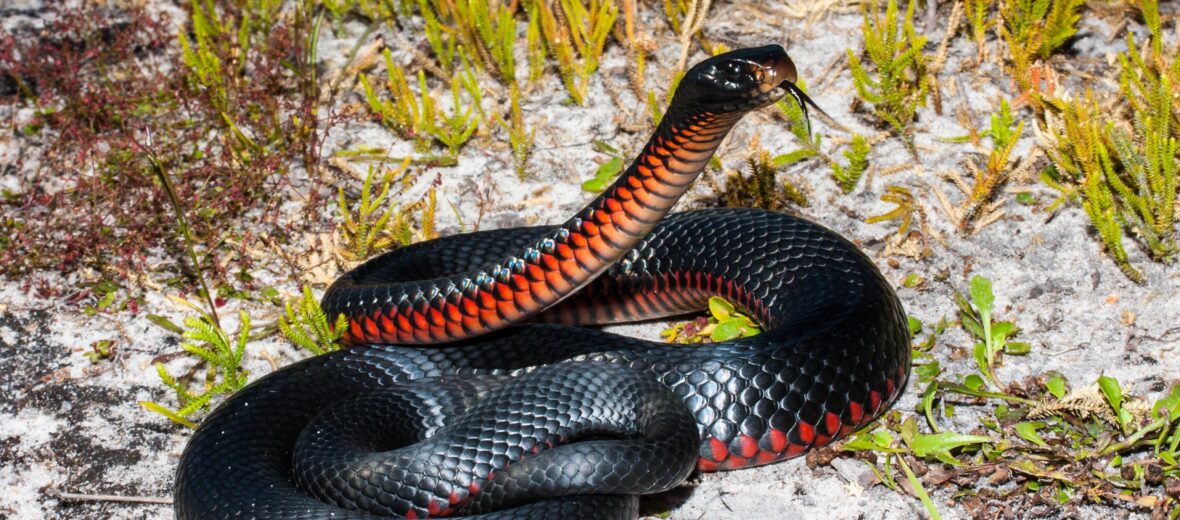 The red-bellied black snake is a species of elapid snake native to Australia. They are one of eastern Australia's most commonly encountered snakes. These snakes are not typically an aggressive species and usually retreat when approached, however they will defend themselves if they feel threatened and are cornered. It can usually be found in urban forests, woodlands, plains, and bushland regions.
First the Stats…
Scientific name: Pseudechis porphyriacus
Weight: Up to 7 lbs.
Length: Up to 4 feet
Lifespan: Up to 25 years
Now on to the Facts!
1.) Their prey items include: lizards, fish, frogs, tadpoles, snakes (including its own kind), and mammals. They will also eat eggs.
2.) They are diurnal (active during the day).
3.) The Red-bellied black snake is ovoviviparous (producing young from eggs which are hatched within the body).
4.) The litter size ranges from 8 – 40 baby snakes, which at birth are about 5 inches long.
5.) Mating happens from October – November. Mating can cause the female to bleed from her vent, possibly due to the spines located on the male hemipenes (a pair of organs of male snakes, lizards, and worm lizards).
But wait, there's more on the red-bellied black snake!
6.) Bites from this snakes can be very painful, needing analgesia, and result in local swelling, prolonged bleeding, and even necrosis; particularly if the bite is on a finger or toe.
7.) Symptoms of systemic envenomation include nausea, vomiting, headache, abdominal pain, diarrhea, and/or excessive sweating!
Did you know…?
Its venom contains neurotoxins (affects the nervous system), myotoxins (causes muscle necrosis), coagulants (causes excessive clotting) and also has haemolytic (destroys red blood cells) properties.
8.) A red-bellied black snake yields up to 37 mg of venom in a single bite.
9.) They are preyed on by crows, milk snakes, hawks, shrews, 13-lined ground squirrels, raccoons, and domestic cats.
10.) No deaths have been recorded from these snakes.
Now a Short Red-bellied Black Snake Video!
Also, check out the Critter Science YouTube channel. Videos added frequently!
Want to suggest a critter for me to write about? Let me know here.
Learn more about all kinds of cool critters, right here!