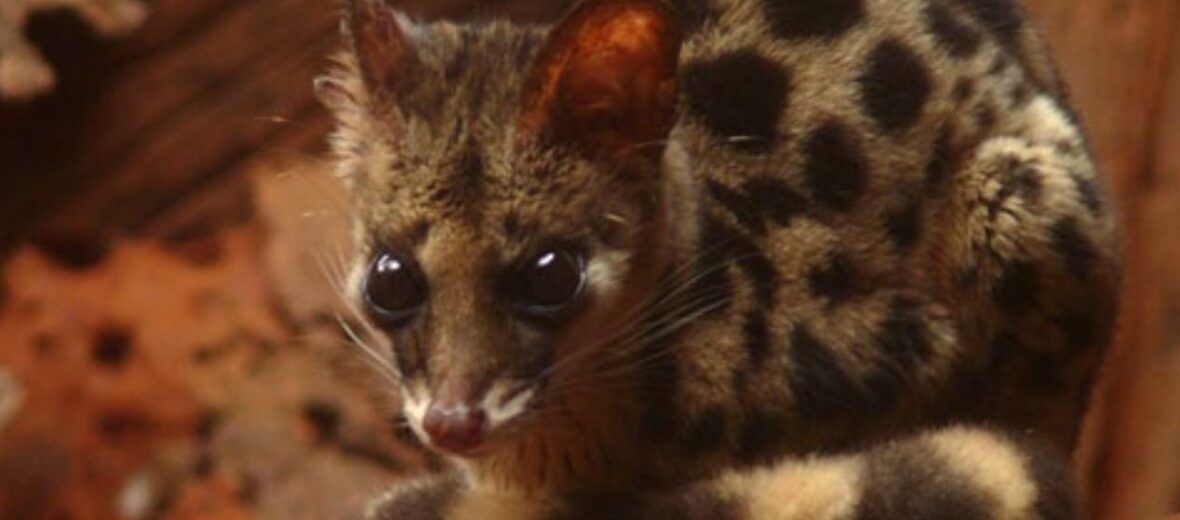 The spotted linsang hails from India, Nepal, Thailand, Laos, Vietnam, Myanmar, and Southern China. They prefer evergreen forests and shrublands. They also go by the name Oriental linsang. Unfortunately, most of their range is unprotected, so they are subject to extinction at the hands of habitat destruction, hunting, and trapping. However, they are fortunately still listed as Least Concern by the IUCN. But their numbers are decreasing.
First the Stats…
Scientific name: Prionodon pardicolor
Weight: Up to 2.5 lbs.
Length: Up to 14 inches, plus up to a 13 inch tail
Height: Up to 5.5 inches
Lifespan: Up to 11 years
Now on to the Facts!
1.) These critters are solitary. They only come together to mate.
2.) Spotted linsangs are at least partially arboreal (spend part of their lives in trees).
3.) They prey on rodents, amphibians, and reptiles. They will also feed on carrion (dead animals).
4.) Owls, and large snakes prey on spotted linsangs.
5.) Linsangs are a sister-group of the cat family: Felidae.
But wait, there's more on the spotted linsang!
6.) Females birth up to 2 pups, 2 times a year; after up to a 70 day gestation (prengancy).
7.) Pups are born in a burrow or a hollow tree.
Did you know…?
Although uncertain, it is surmised that they can run at speeds just about equal to a house cat – up to 30 mph.
8.) It has been suggested that the Asiatic linsangs, in general, be placed in the monogeneric family: Prionodontidae.
9.) Spotted linsangs are nocturnal (active at night).
10.) Like a house cat, they have retractable claws.
Now a Short Spotted Linsang Video!
Be sure to share & comment below! Also, check out the Critter Science YouTube channel. Videos added frequently!
Want to suggest a critter for me to write about? Let me know here.
Learn more about all kinds of cool critters, right here!