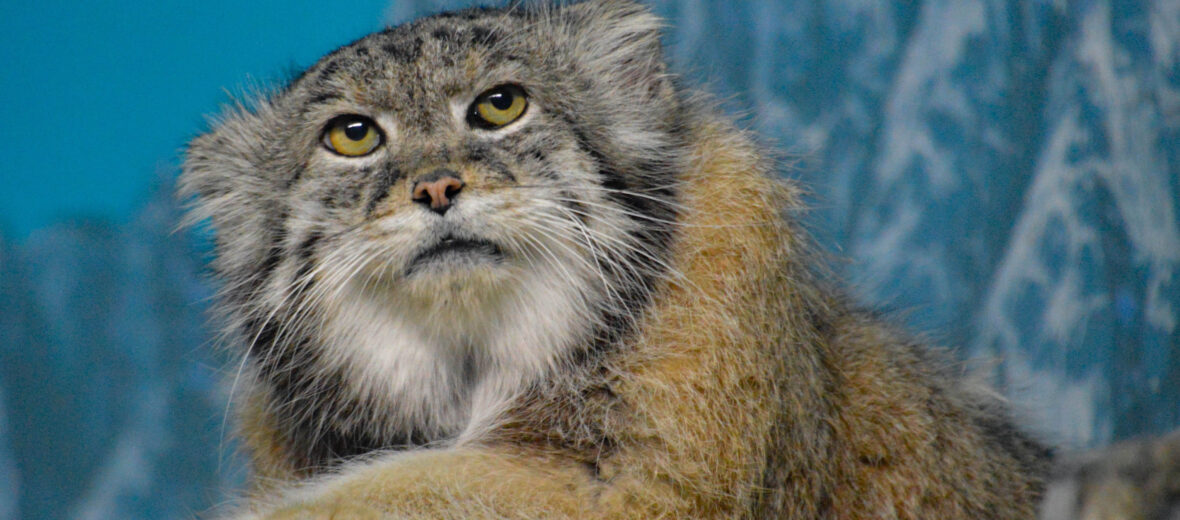 The Pallas's cat is as fascinating as it is unique looking. They're only about the size of a house cat, but they appear much larger. This is due to their thick, fluffy coat and stocky stature. These cool kitties can be found in the Caspian Sea region through Kazakhstan, Pakistan, and northern India, all the way to China and Mongolia. Their preferred habitat is arid and cold regions in upland areas with plenty of hills. They also like stony alpine deserts as well as steppe grasslands with rocky outcrops. Even though they suffer at the hands of habitat destruction and climate change, these cool cats are still listed as Least Concern by the IUCN; with an estimated 58,000 wild individuals remaining, to date.
First the Stats…
Scientific name: Otocolobus manul
Weight: Up to 6.7 lbs.
Length: Up to 26 inches, plus up to a 12.2 inch tail
Height: Up to 14 inches
Lifespan: Up to 12 years
Now on to the Facts!
1.) First off, their pupils are unlike other small cats in that they contract into small circles, rather than vertical slits.
2.) They can be found at elevations of up to 15,000 feet!
3.) These cats have among the longest and most dense fur of any other known cat.
4.) Their fur changes color based on the season. In the winter, their coats are more of a solid light grey. In spring and summer their coats take on a more ochre color with stripes.
5.) Like most cats, the Pallas's cat is solitary; only coming together to mate.
But wait, there's more on the Pallas's cat!
6.) They tend to be mostly cathemeral (active both day and night). But they also have peaks of being crepuscular (active at dawn and dusk).
7.) The most commonly appropriated hides are those of abandoned marmot burrows.
Did you know…?
Their scientific name Otocolobus is Greek for "ugly-eared."
8.) The density of cats is pretty low, with there only being a recorded up to 11 cats per 62 square miles.
9.) A group of cats is called a clowder, clutter, destruction, or pounce.
10.) Pallas's cats hunt by stalking their prey or ambushing it. 1 method is to camp out by the entrances to burrows and pouncing on their prey as they exit their burrow.
But wait, there's still more on the Pallas's cat!
11.) Pikas, mice, murines, ground squirrels, mouse hares, voles, small birds, grasshoppers, and lizards are all preyed on.
12.) Like other cats, they are polygynous (males mate with several females).
13.) Females birth 3 – 6 kittens after a 9 – 10 week gestation (pregnancy).
14.) Even though they are a smaller cat species, they are still aggressive. They have been documented growling even before they can open their eyes.
15.) Eagles are their primary predators.
16.) They are named after the German naturalist Peter Pallas.
Now a Not So Short Pallas's Cat Video!
Be sure to share & comment below! Also, check out the Critter Science YouTube channel. Videos added frequently!
Want to suggest a critter for me to write about? Let me know here.
Learn more about all kinds of cool critters, right here!