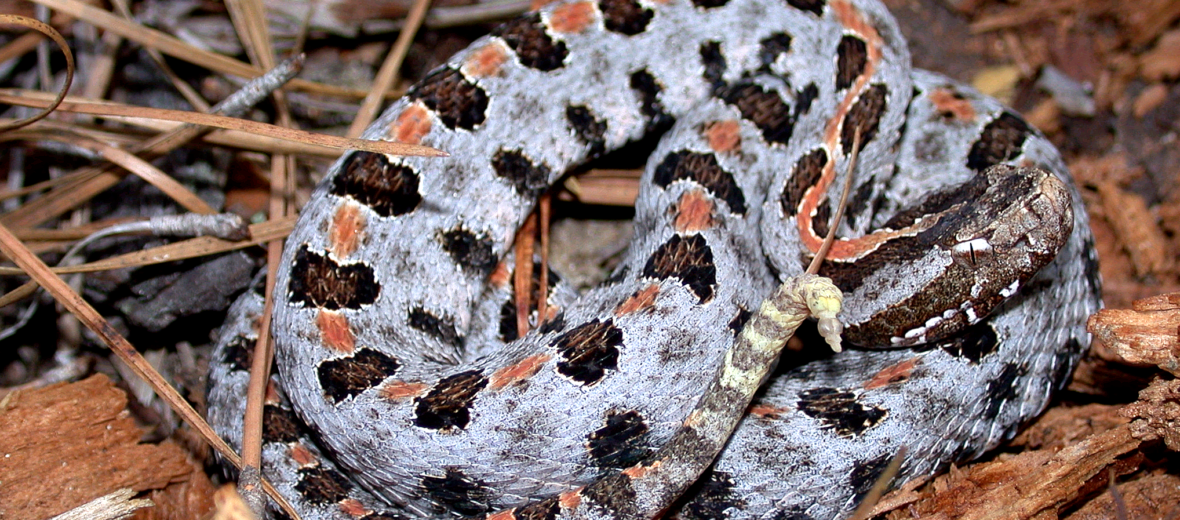 The pygmy rattlesnake, aka eastern pygmy rattlesnake, leaf rattler, ground rattlesnake, or death rattler, is the smallest known species of rattlesnake in the world. They can be found throughout North Carolina, south through Florida and west to Oklahoma, and Eastern Texas in the United States. With their abundant population and stable numbers, these rattlers are listed as Least Concern by the IUCN.
First the Stats…
Scientific name: Sistrurus miliarius
Weight: Up to 5.4 ounces
Length: Up to 25 inches
Lifespan: Up to 16 years
Now on to the Facts!
1.) These snakes are, like other reptiles, solitary; only coming together to mate.
2.) They are Diurnal (active during the day).
3.) Like many other rattlesnakes, pygmies don't dig their own burrows. Rather, they take up residence in abandoned rodent burrows. They will also room with gopher tortoises in their burrows.
4.) Pygmy rattlesnakes hunt by what is called active pursuit. They will chase down their prey, bite them and hold on – injecting venom – while flipping them over and over to avoid being injured.
5.) Pygmies utilize a common tactic with vipers, in that they use their tail as a lure for unsuspecting lizards. The lure attracts a lizard, who thinks the tail tip is a worm, and then the snake strikes.
But wait, there's more on the pygmy rattlesnake!
6.) These vipers are known not only for their diminutive size, but for their tiny rattle. The rattle is so small that it makes a light buzzing noise that can only be heard from a few feet away.
7.) They don't have a common disposition. Some are relaxed and others highly aggressive.
Did you know…?
Their venom is hemotoxic and effects of a bite include: damage the circulatory system and muscle tissue which causes swelling, hemorrhage, and tissue necrosis (tissue death). But their venom is not likely to kill a human or decent sized pet.
8.) A group of rattlers is called a pit, bed, knot, den, or nest.
9.) The pygmy rattlesnake preys on mice, small rats, lizards, frogs, birds, insects, giant desert centipedes, and even other snakes.
10.) They are preyed on by hawks, owls, raccoons, kingsnakes, and others.
But wait, there's still more on the pygmy rattlesnake!
11.) Pygmy rattlers are seasonally monogamous. This means they mate with only 1 partner each season.
12.) Females, as is the case will all vipers, give birth to live young. The female can birth up to 12 young rattlers.
13.) The young snakelets are born Precocial (fully developed at birth).
14.) These snakes have dozens or other common names, hence the need for an animal's scientific name. Some other names they go by are: southeastern ground rattlesnake, southern ground rattlesnake, oak-leaf rattler, pygmy ground rattlesnake, small rattlesnake, southern pygmy rattlesnake, and many more. Talk about an identity crisis.
Now a Short Pygmy Rattlesnake Video!
Be sure to share & comment below! Also, check out the Critter Science YouTube channel. Videos added frequently!
Want to suggest a critter for me to write about? Let me know here.
Learn more about all kinds of cool critters, right here!