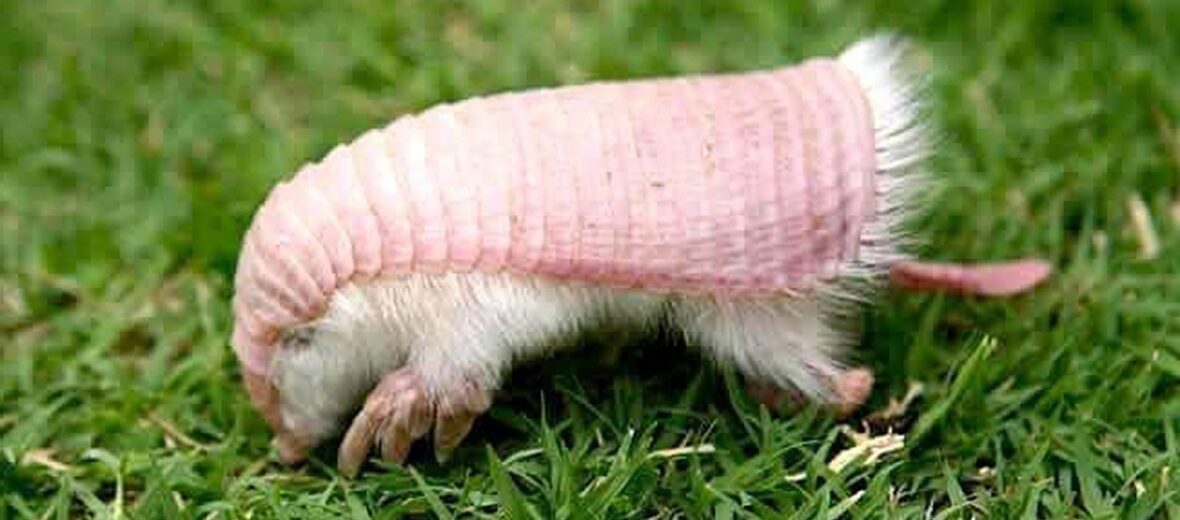 The pink fairy armadillo, aka pichiciego, is native to the grasslands, sandy plains, and sand dunes of central Argentina. Of all the armadillos, these are the smallest. These diminutive critters are the only armadillo species whose dorsal shell is totally separate from its body. It is connected to the body with a thin membrane that runs along its spine. Due to agricultural activities these cute critters are in a sharp decline. Their burrows are destroyed by farming equipment and their food source is poisoned. These creatures are listed a Near Threatened by the IUCN, but their overall status is largely unknown. This article is on special request from Ryan.
First the Stats…
Scientific name: Chlamyphorus truncatus
Weight: Up to 4.2 ounces
Length: Up to 4.5 inches
Lifespan: Up to 10 years
Now on to the Facts!
1.) Fairy armadillos are nocturnal (active at night).
2.) These Omnivores (eat plant and animal matter) that feast on worms, snails, insects, and various plants; with ants and larvae being their favorite.
3.) Due to how fragile and flexible their shells are, it is believed that they don't use them for protection, but rather for thermoregulation (regulation of body temperature).
4.) Their claws are so big that they have trouble walking on hard surfaces. But boy can they dig.
5.) The pink color of their armor is due to a complex network of blood vessels underneath. You can actually see the vascular array when looking at their shell.
But wait, there's more on the pink fairy armadillo!
6.) Flattened armor on their rear, affectionately called the butt plate, is evolved to compact dirt that it digs with its front claws.
7.) The pink fairy armadillo's spatula shaped tail is used as a 5th appendage while digging tunnels.
Did you know…?
Due to their dietary needs, they are unable to survive in captivity for more than a few days. They don't seem to take to artificial diets.
8.) Pichiciegos can't see very well and thus find their way around via touch and hearing.
9.) Pink fairies are polygamous (mate with several partners). Typically though, they are solitary creatures until mating season.
10.) Females give birth to just 1 baby each season.
Now a Short Pink Fairy Armadillo Video!
Also, check out the Critter Science YouTube channel. Videos added frequently!
Want to suggest a critter for me to write about? Let me know here.
Learn more about all kinds of cool critters, right here!