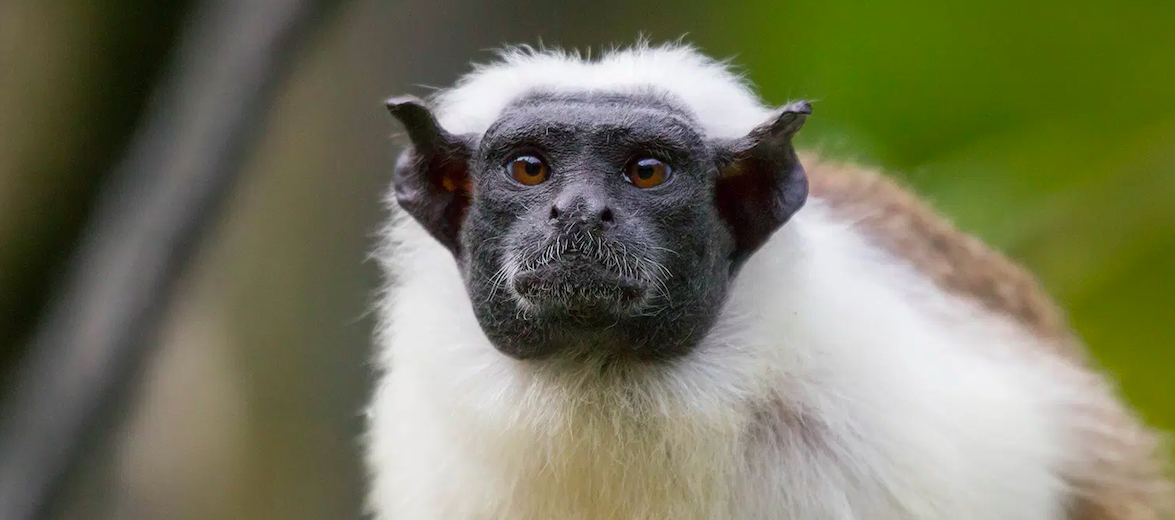 The pied tamarin can only be found in a remote section of the Brazilian Amazon Rainforest. They prefer sand forests, old-growth forests, and fragmented secondary forest habitats. Due to the threats of habitat loss and destruction at the hands of urban and housing developments, agriculture, and aquaculture; railways and roads dividing their habitats; as well as deforestation at the hands of legal and illegal logging, these primates are listed as Critically Endangered by the IUCN. Their numbers are also steadily decreasing.
First the Stats…
Scientific name: Saguinus bicolor
Weight: Up to 1 lb.
Length: Up to 9.4 inches, plus up to a 17 inch tail
Lifespan: Up to 15 years
Now on to the Facts!
1.) In 2005, they were named the official mascot of Manaus, Brazil.
2.) These primate live, with little to no competition, in troops of up to 15 individuals.
3.) Their diet consists of flowers, fruits, nectar, various insects, arachnids, small vertebrates, and even bird eggs.
4.) The primary predators are snakes, smaller wild cats, birds of prey, domestic dogs, and domestic cats.
5.) They are also threatened by being captured for the exotic pet trade and by being electrocuted from power lines.
But wait, there's more on the pied tamarin!
6.) Pied tamarins are arboreal (spend their lives in trees).
7.) Due to behavioral suppression, only the alpha female of the troop is allowed to breed.
Did you know…?
These little primates can leap upwards of 10+ feet, from branch to branch.
8.) Females undergo up to a 150 day gestation (pregnancy) that usually yields up to 2 infant twins.
9.) With the predominant amount of care falling on the father's hands, the rest of the troop will also assist in rearing the infants.
10.) The infants are routinely turned over to the mother for nursing.
Now a Short Pied Tamarin Video!
Be sure to share & comment below! Also, check out the Critter Science YouTube channel. Videos added regularly!
Want to suggest a critter for me to write about? Let me know here.