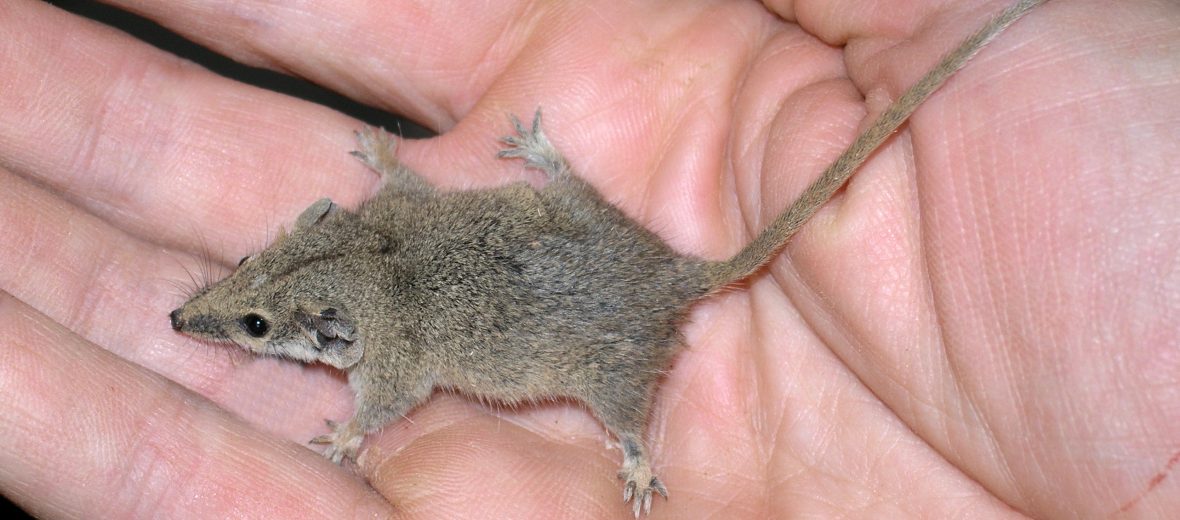 The long-tailed planigale, aka Ingram's planigale or the northern planigale, is among the smallest of the known marsupials. These diminutive critters hail from Australia. They prefer clay-soiled woodlands, blacksoil plains, and seasonally flooded grasslands. Due to a stable population, these tiny creatures are listed as Least Concern by the IUCN.
First the Stats…
Scientific name: Planigale ingrami
Weight: Up to .22 ounce
Length: Up to 2.32 inches, plus up to a 3 inch tail
Lifespan: Up to 15.6 months
Now on to the Facts!
1.) Long-tailed planigales prey on crickets, grasshoppers, insect larvae, small lizards, and young, smaller mammals.
2.) During the day, they can enter into torpor (dormancy with decreased body temperature and metabolic rate), as the need arises.
3.) These marsupials are nocturnal (active at night).
4.) They are solitary critters that only come together to mate.
5.) Their primary predators are domestic and feral cats, snakes, and cane toads.
But wait, there's more on the long-tailed planigale!
6.) Long-tailed planigales are promiscuous (mate with several partners).
7.) Mating season lasts throughout the year.
Did you know…?
Even though the female possesses 10 teats, she typically gives birth to up to 8 joeys. Sometimes up to 12 are born though, on rare occasions. The remaining 2 will starve to death.
8.) Like other burrowing marsupials, the female's marsupium (pouch) faces the rear. This way, dirt won't fill the pouch while excavating for food.
9.) After birth, the joeys find their way to their mother's marsupium to continue development.
10.) The joeys leave their mother's pouch in up to 6 weeks. They are fully developed in up to 3 months.
Now a Short Long-Tailed Planigale Video!
Be sure to share & comment below! Also, check out the Critter Science YouTube channel. Videos added regularly!
Want to suggest a critter for me to write about? Let me know here.
Think you know a lot about critters? Try your hand at these fun, free quizzes: