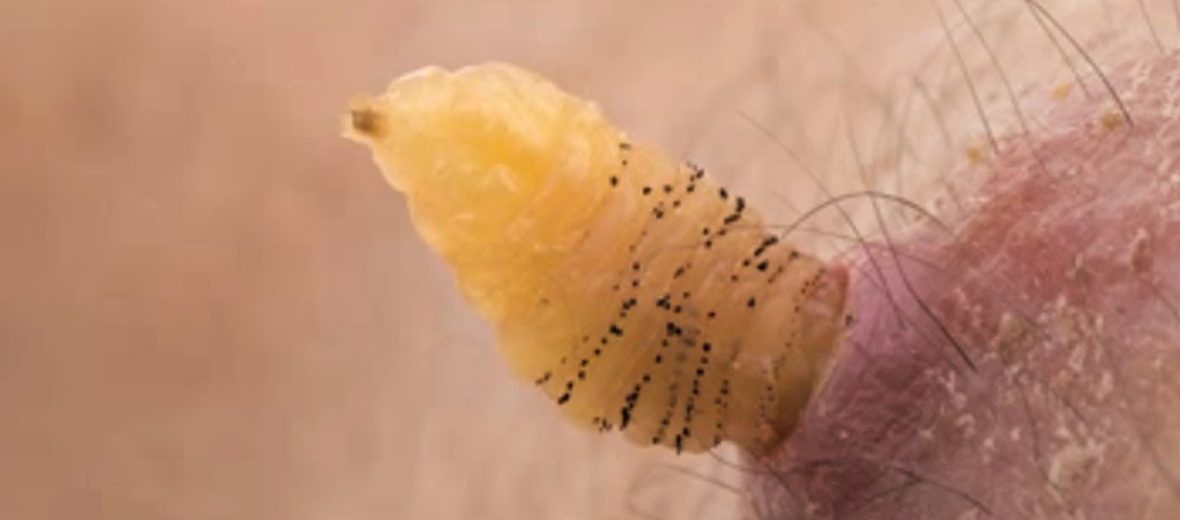 And another fun October article… The botfly! Botflies, also known as warble flies, heel flies, & gadflies, are a family of flies who deposit their eggs on an intermediary host then their larvae become internal parasites of mammals, insects, and some plants. Some species growing in the host's flesh and others within the gut. Be warned, this is a pretty creepy article. Let's see if you can handle it to the very end!
First the Stats…
Scientific name: Oestridae
Length: Up to 0.05 inches
Lifespan: Adult: Up to 12 days. | Larvae: Up to 12 weeks
Now on to the Facts!
1.) Some botfly species deposit their eggs on horse's legs which causes irritation. This gets the horse to lick the legs(s) and ingests the now emerged maggots, which then attach themselves to the lining of the horse's stomach. After 8 – 11 months, the pupae are excreted out to become adult flies and start the process over again.
2.) The sheep botflies deposit their eggs in the noses of sheep. As they develop they can cause a neurological condition called blind staggers. (The animal walks with an unsteady, staggering gait and seems to be blind.)
3.) The rodent botfly attacks rats, mice, and squirrels. The maggots enter in to the scrotum and can cause them to be emasculated.
4.) The human botfly attacks livestock, deer, and humans! The female fly attaches her eggs to mosquitoes and other insects that carry the eggs to the actual host. Body warmth causes the eggs to hatch, and the tiny larvae penetrate the skin.
5.) Bots are found mainly near Central Asia and South America. But there are species that live right here in the United States!
But wait, there's more on the bot fly!
6.) The botfly is a parasite in every sense of the word.
7.) In humans, the botfly infestations are pretty severe. The hatched larvae enter the skin, and a raised lesion is made. The lesion houses the larvae that can also secrete pus. The area is surrounded by pathogens that affect the tissues and can cause severe infections.
Did you know…?
You will also feel the larvae moving around inside the lesion. Especially when you take a shower, you will feel the movement even more.
8.) Avoiding botflies is best with insect repellent, wearing protective clothing, and staying away from areas with botflies.
9.) There are 30 known species of botflies, in the United States alone.
10.) Inuit people still eat botfly larvae to this day. Mmmm, yummy!
Are you starting to itch yet?
Now a Short Botfly Video!
Also, check out the Critter Science YouTube channel. Videos added frequently!
Want to suggest a critter for me to write about? Let me know here.
Learn more about all kinds of cool critters, right here!