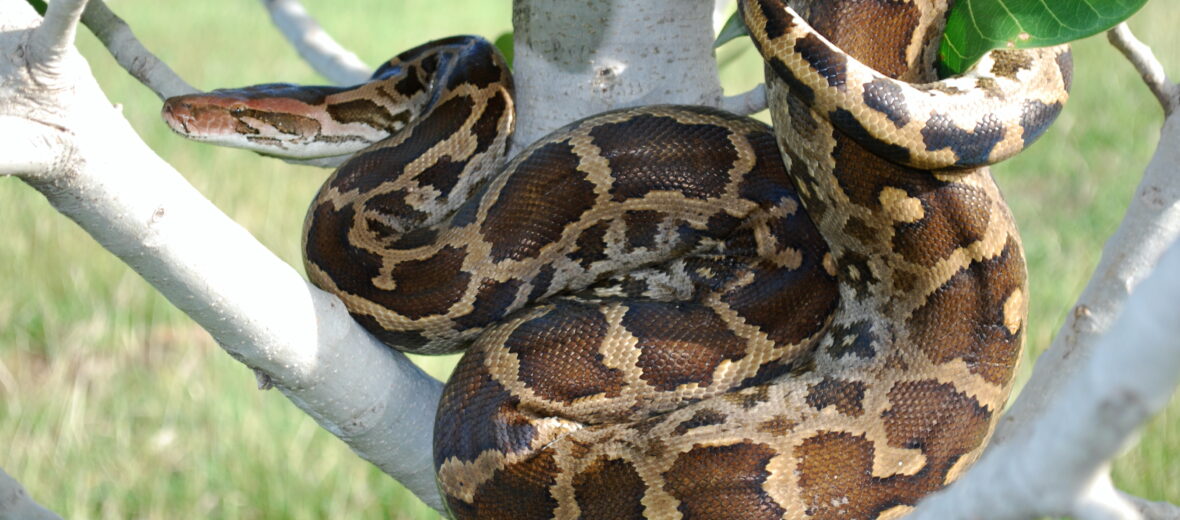 The Indian python, aka Indian rock python, black-tailed python, and Asian rock python, hails from the tropical and subtropical areas of the Indian subcontinent and Southeast Asia. These constrictors like swamps, marshes, rocky foothills, grasslands, savannahs, woodlands, open forests, and river valley biomes. These pretty snakes are listed as Near Threatened by the IUCN, due to habitat loss.
First the Stats…
Scientific name: Python molurus
Weight: Up to 27 lbs.
Length: Up to 9.8 feet
Lifespan: Up to 20 years
Now on to the Facts!
1.) Like other snakes, these pythons are solitary and only come together briefly, to mate.
2.) These pythons are nocturnal (active at night).
3.) Indian pythons are primarily terrestrial (spend most of their life on the ground) but can climb trees, if necessary.
4.) Like all pythons, they are excellent swimmers that are quite at home in the water.
5.) They brumate (hibernation for reptiles) during the colder winter months.
But wait, there's more on the Indian python!
6.) Although a rare site, a group of pythons is called a den, knot, pit, nest, or bed.
7.) These Carnivores (eat meat) prey on mammals, other reptiles, amphibians, and birds.
Did you know…?
Kaa was an Indian python featured in The Jungle Book, by Rudyard Kipling.
8.) Females are oviparous (lay eggs) and lay up to 100 eggs.
9.) Eggs hatch in 2 – 3 months.
10.) A snakelet breaks free from the egg via the help of an egg tooth. This adaptation falls off soon after birth.
Now a Short Indian Python Video!
Be sure to share & comment below! Also, check out the Critter Science YouTube channel. Videos added frequently!
Want to suggest a critter for me to write about? Let me know here.
Learn more about all kinds of cool critters, right here!