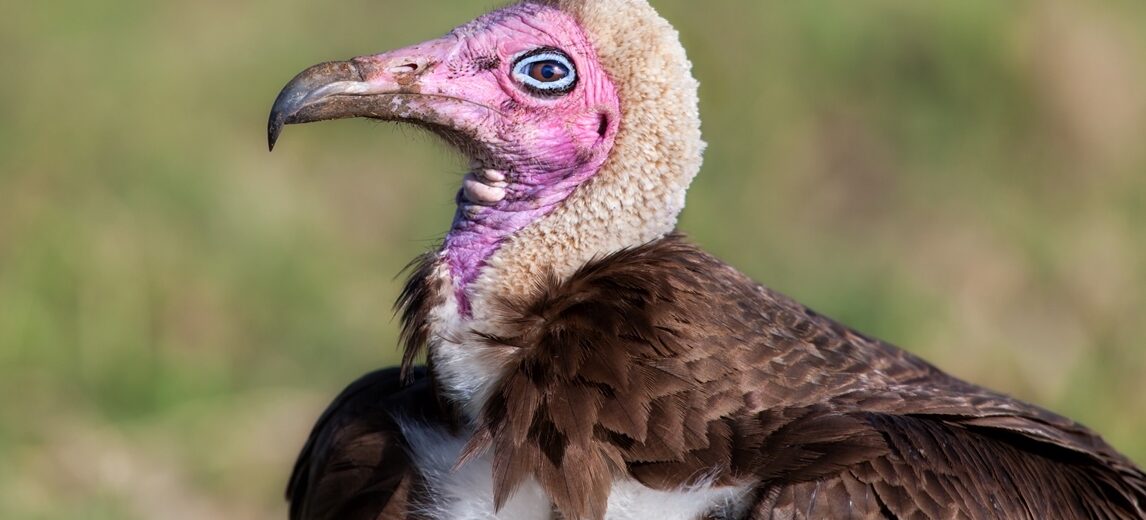 The hooded vulture is closely related to eagles and hawks. They are old world vultures (those hailing from Africa and Asia). Hooded vultures call Kenya, Sub-Saharan Africa, Uganda, Tanzania, and other countries their home. These birds prefer savannas, grasslands, semi-deserts, forests, coastal lowlands, and open woodlands. The hooded vulture is also frequently spotted near human settlements, since food is plentiful there and they have little to no fear of humans. Due to this fact, there has been, as of late, a clash between the birds and humans; resulting in the birds being hunted and poisoned. As a result they are listed as Critically Endangered by the IUCN. Their numbers have decreased by over 80% and are dwindling each day!
First the Stats…
Scientific name: Necrosyrtes monachus
Weight: Up to 5.7 lbs.
Length: Up to 28 inches
Wingspan: Up to 5.9 feet
Lifespan: Up to 30 years
Now on to the Facts!
1.) A group of these vultures is called a kettle, venue, or wake.
2.) These birds aren't as shy as other vultures. They are often seen following plows as they unearth tasty grubs from the soil.
3.) They possess a special skin flap that covers their ear holes, to prevent bits of food from entering their ear canals.
4.) In urban areas, they root around in dumps and gutters for scraps of food. Near seashores, they feast on spiny lobsters, mussels, mollusks, and dead fish. They also eat grasshoppers and grubs. Their primary source of food though is carrion (dead animals).
5.) Being among the smallest of the African vultures, they are typically first to find food. As they can take off and catch thermals better then their larger relatives.
But wait, there's more on the hooded vulture!
6.) Hooded vultures are monogamous (mate for life).
7.) These vultures will also use the same nest year after year.
Did you know…?
When excited, the hooded vulture will blush red.
8.) Females lay a single egg each breeding season.
9.) Villagers call them "Garbage collectors", since they can be found in dumps rummaging for scraps of food.
10.) Their scientific name, "Necrosyrtes monachus" comes from the Greek words meaning "monklike corpse-dragger," due to the vulture's coif-like plumage around its head and its scavenging behavior.
Now a Short Hooded Vulture Video!
Also, check out the Critter Science YouTube channel. Videos added frequently!
Want to suggest a critter for me to write about? Let me know here.
Learn more about all kinds of cool critters, right here!