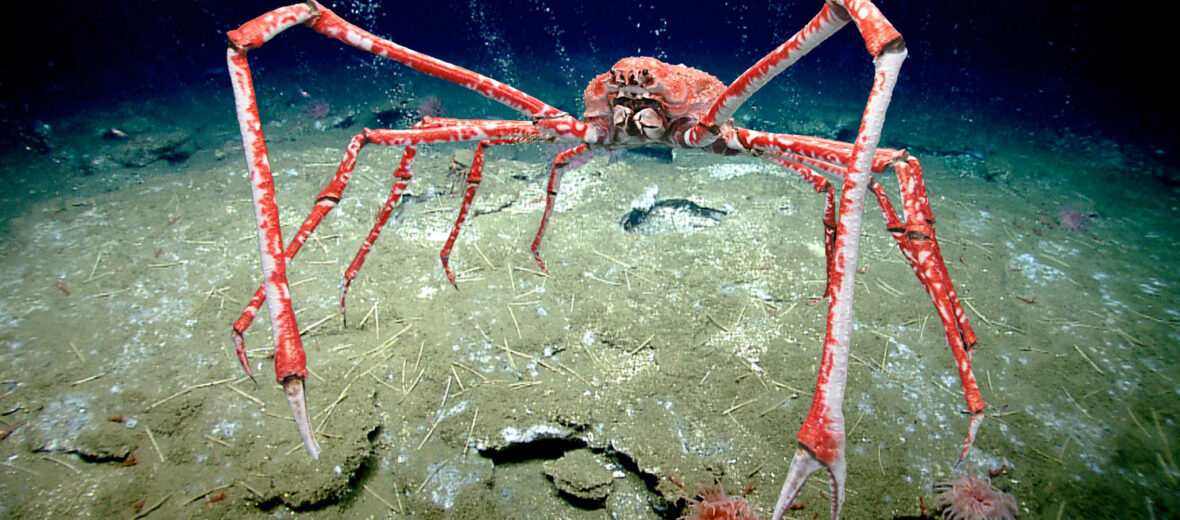 And the winner of the largest known crab species goes to the Japanese spider crab, aka aka-ashi-gani (tall legs crab). These giants can be found off the coast of Japan near deep water vents. They can be found at depths of up to 1,970 feet. Their preferred temperature is around 50°F. Japanese spider crabs are not currently evaluated by the IUCN. But efforts are underway to ensure sustainable fishing practices so that overfishing doesn't occur.
First the Stats…
Scientific name: Macrocheira kaempferi
Weight: Up to 44 lbs.
Length: Up to 16 inches, with a leg span of up to 12+ feet
Lifespan: Up to 100 years
Now on to the Facts!
1.) These spider crabs will decorate their carapace with sponges and other critters, to help with camouflage.
2.) Japanese spider crabs eat algae, kelp, mollusks, slow-moving invertebrates, and their favorite dead fish and whale carcasses.
3.) They are preyed on by octopuses and other spider crabs.
4.) While not often fished for, these crabs are considered a rare delicacy in Asia.
5.) It is presumed that if a limb is lost, a new limb can regenerate, in time.
But wait, there's more on the Japanese spider crab!
6.) The Japanese spider crab was initially described in 1836 by Coenraad Jacob Temminck under the name Maja kaempferi.
7.) Females carry around their eggs via their abdominal appendages.
Did you know…?
The female spider crab can lay up to 1.5 million eggs, each season!
8.) The larvae undergo 4 stages of development before they mature into adult crabs.
9.) The 4 stages of development are the prezoeal (lasts only minutes), the zoeal stage (where they have transparent bodies), a megalopa stage (where their abdomen is relatively long and the eyes are large), and finally adulthood.
10.) Laws have been put in place, in Japan, that prohibit fishing for these crabs between January – April. As this is when their breeding season is and when they are most vulnerable, due to moving to shallower water.
Now a Short Japanese Spider Crab Video!
Be sure to share & comment below! Also, check out the Critter Science YouTube channel. Videos added frequently!
Want to suggest a critter for me to write about? Let me know here.
Learn more about all kinds of cool critters, right here!