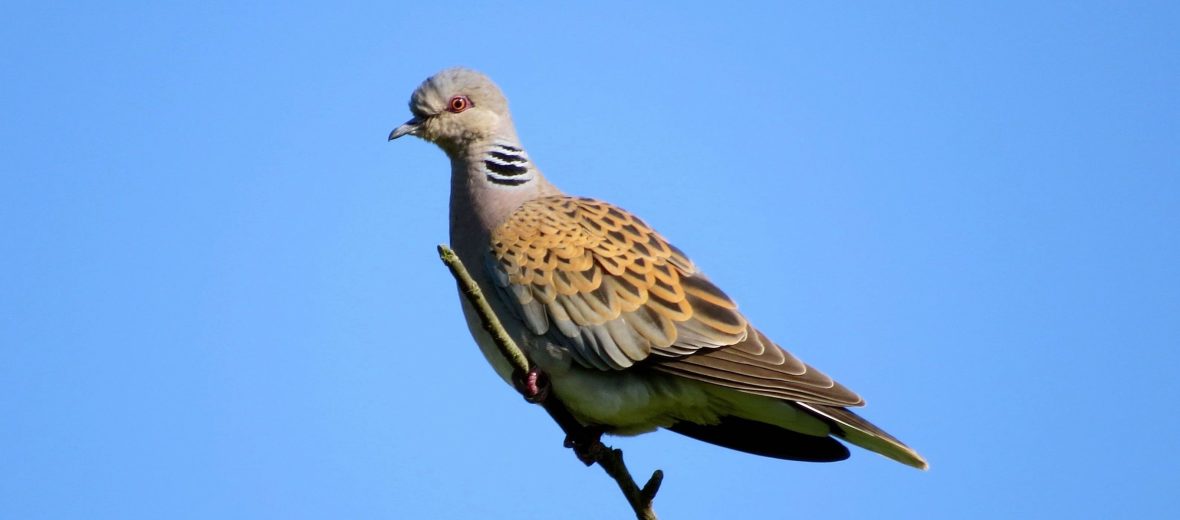 Found throughout Europe, Asia, and northern Africa, the European turtle dove tolerates a wide range of habitats, including: open woodlands, woodland edges, wooded marshes, semi-deserts, hedges, steppes, groves, plantations, and shrublands. Even though there are an estimated 47,600,000 wild birds, throughout their range, they face the constant threats of habitat destruction; invasive species (and with them, disease); pollution; hunting; trapping; and climate change (droughts and excessive heat). For this reason, these doves are listed as Vulnerable by the IUCN. Their numbers decrease daily.
First the Stats…
Scientific name: Streptopelia turtur
Weight: Up to 6 ounces
Length: Up to 11 inches
Wingspan: Up to 21 inches
Lifespan: Up to 10+ years
Now on to the Facts!
1.) These migratory birds travel south for the winter, to northern Africa.
2.) They may prefer a wide range of habitats, but they typically steer clear of gardens and thick woodlands.
3.) European turtle doves are diurnal (active during the day).
4.) A group of doves is called a flight, dule, or dole.
5.) Large flocks can conglomerate around abundant food sources or water. Otherwise, they are solitary or can be found in pairs.
But wait, there's more on the European turtle dove!
6.) The European turtle dove is just about the last migratory bird to leave Europe for the winter each year.
7.) They produce a purring or cooing sound, when content.
Did you know…?
These birds can fly up to 37 mph.
8.) Turtle doves eat berries, fruits, cereals, seeds, weeds, fungi, various insects, earthworms, and garden snails.
9.) Breeding season lasts from April – September.
10.) Females lay 2 eggs that hatch in up to 2 weeks.
But wait, there's still more on the European turtle dove!
11.) Both parents incubate the eggs, trading off while the other parent looks for food.
12.) The squabs or chicks fledge at up to 20 days and are sexually mature at 1 year of age.
13.) The Song of Solomon states, "The voice of the turtle is heard in our land." This is perhaps a reference to the purring sound of turtle doves.
14.) Turtle doves can travel up to 435 miles in a single night, while migrating.
Now a Short European Turtle Dove Video!
Be sure to share & comment below! Also, check out the Critter Science YouTube channel. Videos added regularly!
Want to suggest a critter for me to write about? Let me know here.
Think you know a lot about critters? Try your hand at these fun, free quizzes: