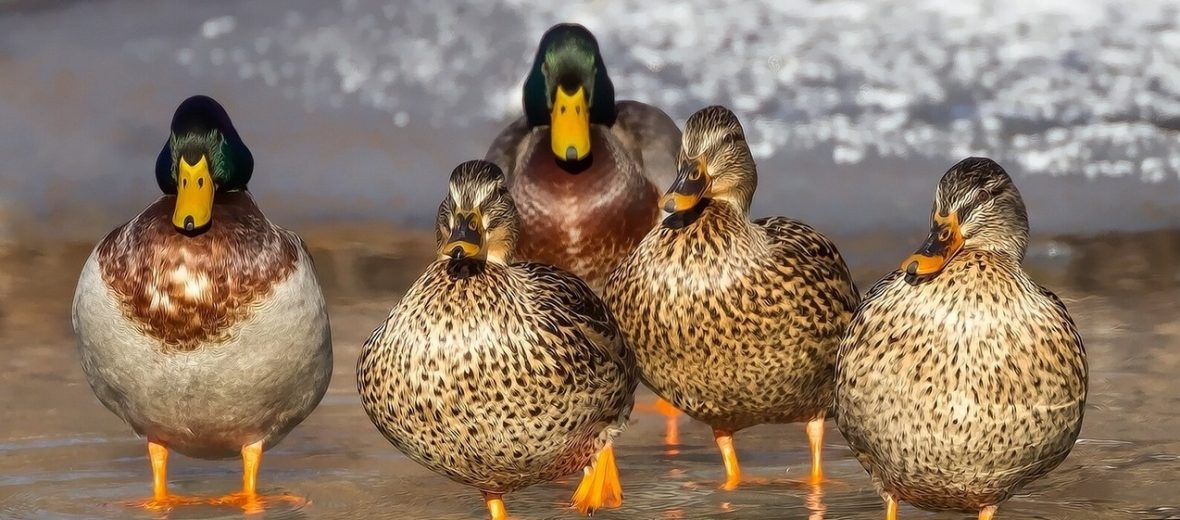 Found throughout many parts of the world, the mallard duck is a common sight. They prefer marshes, ponds, lakes, rivers, wetlands, and flooded habitats. Mallard ducks face the threats of habitat destruction, hunting, water pollution, lead and mercury poisoning, yet remain abundant. They are listed as Least Concern by the IUCN, due to a stable global population.
First the Stats…
Scientific name: Anas platyrhynchos
Weight: Up to 3.5 lbs.
Length: Up to 26 inches
Wingspan: Up to 3.2 feet
Lifespan: Up to 20 years
Now on to the Facts!
1.) Both males and females have a section of iridescent blue feathers that are outlined in white, called a speculum, on their wings.
2.) Mallards are diurnal (active during the day).
3.) These ducks are highly social birds that gather into large flocks on and near water bodies.
4.) A group of ducks is called a bunch, flock, badelynge, paddling, brace, or raft.
5.) Generally speaking, mallards are migratory birds. However, there are individuals in warmer climates that don't migrate.
But wait, there's more on the mallard duck!
6.) Being omnivores (eat plant and animal matter), they will feast on gastropods, insects, worms, and arthropods. They also consume aquatic vegetation.
7.) Although they are predominantly monogamous (mate for life), males have been observed chasing other females during the mating season, even when already paired with a female. That's just disrespectful.
Did you know…?
Contrary to popular belief, a duck's quack does have an echo. It's just so faint that it is hard to discern.
8.) Their nest is built on the ground, near a body of water.
9.) Females lay up to 13 eggs, that hatch in up to 28 days.
10.) Ducklings are hatched precocial (self-sufficient) and are introduced to water within as little as 12 hours after hatching.
But wait, there's still more on the mallard duck!
11.) Males leave after mating to join bachelor flocks and leave the female to rear the young. Father of the year.
12.) After the breeding season, mallards will molt. During this time they are especially susceptible to predation, as they are unable to fly.
13.) Due to the oil produced from their preen gland, water easily repels from their feathers.
14.) Most domesticated ducks originated from mallards.
Now a Short Mallard Duck Video!
Be sure to share & comment below! Also, check out the Critter Science YouTube channel. Videos added regularly!
Want to suggest a critter for me to write about? Let me know here.
Think you know a lot about critters? Try your hand at these fun, free quizzes: