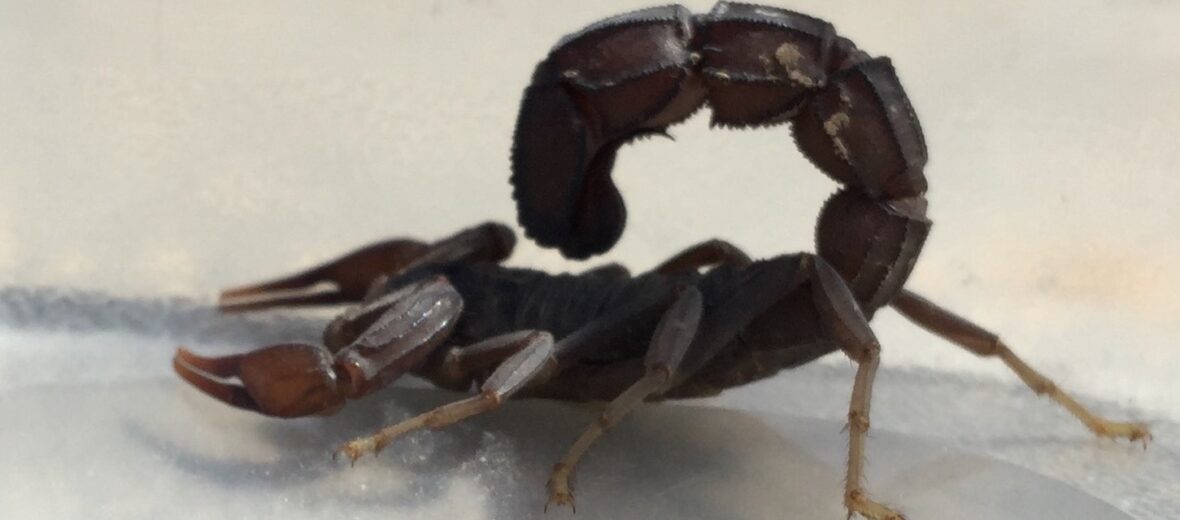 The fat-tailed scorpion, aka fattail scorpion, can be found in desert, arid, semi-arid, subtropical, tropical, and temperate regions of northern and western Africa as well as the Middle East & a portion of Asia. Generally speaking, smaller scorpions tend to be more venomous, but that doesn't apply to these critters. As is often said, "The only thing predictable about nature is that it's unpredictable".
First the Stats…
Scientific name: Androctonus
Length: Up to 4 inches
Lifespan: Up to 5 years
Now on to the Facts!
1.) These critters are not only hefty, but they are fast and very aggressive.
2.) Their scientific name is Greek for "Man killer".
3.) Fat-tailed scorpions, like other scorpions, are nocturnal (active at night).
4.) They prey on spiders, insects, lizards, rodents, and even other scorpions.
5.) Prey is captured and crushed by their pendipalps and then they inject their lethal paralytic venom into their soon to be meal, killing it in seconds.
But wait, there's more on the fat-tailed scorpion!
6.) There are several recorded human deaths each year at the hands of fattails.
7.) When prey is captured and subdued the fat-tailed scorpion will then use its chelicerae (tiny claws attached to their mouth) to tear off non-edible portions leaving only the soft, oatmeal-like remains that are then drank. Scorpions can only drink their food, so the tough parts are disposed of.
Did you know…?
Their neurotoxic venom causes paralysis in the nerves that are responsible for respiration. So you stand a good chance of death by asphyxiation (suffication), if stung. Antivenom is available, but is incredibly expensive!
8.) Despite their toxicity, these scorpions are frequently kept as pets by exotic pet owners.
9.) A wet sting (a sting that contains venom) can kill a person in as little as 1 hour!
10.) Females birth up to 45 live scorplings each breeding season. As is the case with all known scorpions, they don't lay eggs. Rather they have live birth.
But wait, there's still more on the fat-tailed scorpion!
11.) After their second molt, the young leave the security of mom's back (usually in a couple weeks) and seek out their own life. If they stick around too long, mom will eat them.
12.) Scorpions are born venomous, but they are unable to sting until about their second molt; when their exoskeleton hardens.
13.) These scorpions can also use their tail to flick venom at their opponent too. So they don't always have to sting to get their… point across.
Now a Short Fat-Tailed Scorpion Video!
Be sure to share & comment below! Also, check out the Critter Science YouTube channel. Videos added frequently!
Want to suggest a critter for me to write about? Let me know here.
Learn more about all kinds of cool critters, right here!