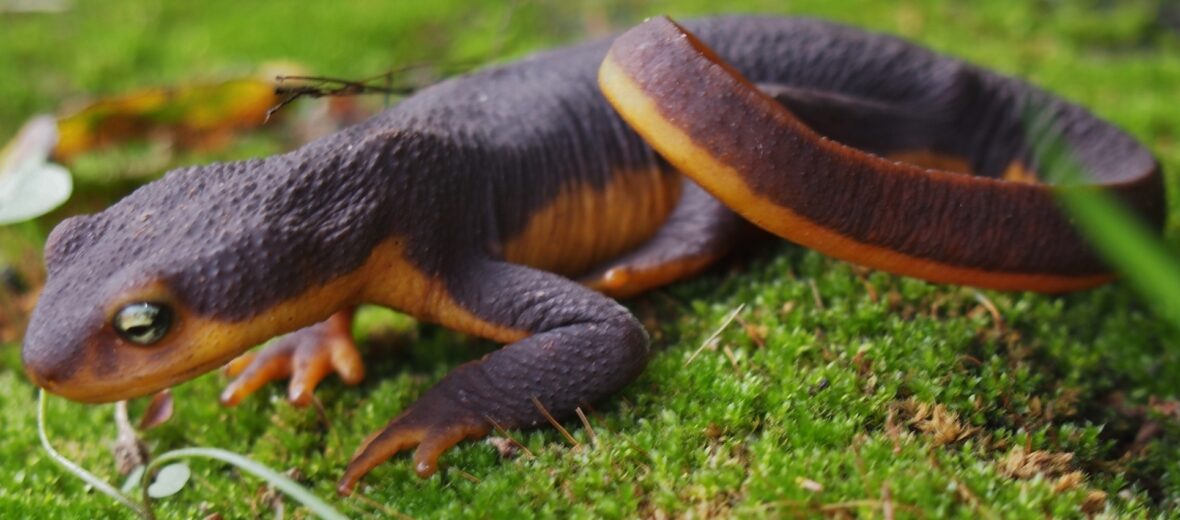 The California newt, aka the orange bellied newt, is the largest native salamander species found in the Santa Monica Mountains. These newts are native to California. The species occurs throughout the coast and coastal range mountains from San Diego County to Mendocino County. They prefer chaparral, oak woodlands, and grasslands.
First the Stats…
Scientific name: Taricha torosa
Weight: Up to 4 – 5 ounces
Length: Up to 8 inches
Lifespan: Up to 22 years
Now on to the Facts!
1.) Their main predators are garter snakes, mosquito fish, crayfish, and humans.
2.) They eat earthworms, mosquito larvae, snails, slugs, woodlice, bloodworms, crickets, and other invertebrates. They also eat amphibian eggs and larvae, including newt larvae and newt eggs. Yep, they're cannibals. Larvae usually eat small aquatic inverts and decomposing plant matter.
3.) California newts secrete the potent neurotoxin called tetrodotoxin, which is more toxic than cyanide! This is the same toxin found in pufferfish.
4.) California newts are classified as a Species of Special Concern in California, but do not have federal protection.
5.) Newts have an ability to regenerate tissue if they are damaged or lost. They can seamlessly rebuild any damaged tissue – from eyes, to spinal cords, and even parts of their brain – without scabs or even scars!
But wait, there's more on the California newt!
6.) Mating and reproduction occurs from November – July.
7.) The female lays between 7 – 47 eggs.
Did you know…?
When the newt is exposed to fire, the slime coating on its skin foams up and turns to a crusty white ash. This protects the newt from burning – to an extent.
8.) Females can lay around 3 – 6 egg masses in a day.
Now a Short California Newt Video!
Also, check out the Critter Science YouTube channel. Videos added frequently!
Want to suggest a critter for me to write about? Let me know here.
Learn more about all kinds of cool critters, right here!