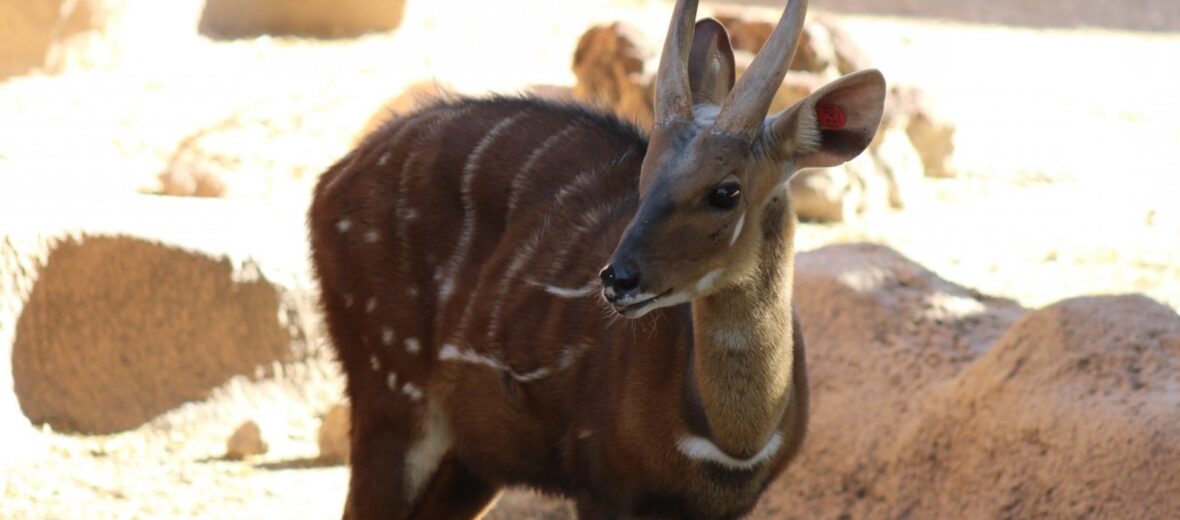 The African bushbuck are a herbivorous (eat plants) antelope species that live in various habitats, including rain forests, montane forests, forest-savanna mosaics, and bush savannas. There is no shortage of these critters as their numbers tally at over 1,000,000! As such, they are listed as Least Concern by the IUCN.
First the Stats…
Scientific name: Tragelaphus scriptus
Weight: Up to 180 lbs.
Length: Up to 4.1 feet
Height: Up to 40 inches
Life span: Up to 15 years
Now on to the Facts!
1.) Only male bushbucks have horns. There horns can reach up to 20 inches long!
2.) The primary predators are leopards, lions, cheetahs, hyenas, humans, hunting dogs, and crocodiles. Cheetahs are the main predators though.
3.) The bushbuck are typically nocturnal (active at night) but can also be seen during the day (diurnal).
4.) Unlike other antelopes, bushbucks do not tolerate birds that remove insects from its fur. As a result, bushbucks are typically covered with ticks. Besides diseases transmitted by insects, bushbucks are prone to the viral disease rinderpest (an infectious viral disease of cattle that causes oral erosions, fever, diarrhea, lymphoid necrosis, and high mortality).
5.) The African bushbuck is not a territorial animal and their territories typically overlap with other bushbucks.
But wait, there's more on the African bushbuck!
6.) When scared, bushbucks can freeze or lay on the ground and wait for the danger to pass. Sometimes, they produce a series of hoarse barks.
7.) Bushbucks mate throughout the year. Gestation (pregnancy) in females lasts 6 months and ends with 1 baby. Females can have 2 litters each year.
Did you know…?
Not being a very fast runner, they are capable of jumping up to 6 feet in the air! They are also able to swim.
8.) After a baby is born, the female eats the placenta and dung of the young fawn to remove all smells that would otherwise attract would-be predators. Yummy!
9.) The baby remains hidden in the thick vegetation when their mother is foraging for food. When it reaches the age of 4 months, the baby accompanies its mother in the search for food.
10.) They get most of their water needs from the foods they eat and will also lick dew from leaves. They aren't seen drinking standing water.
Now a Short African Buckbuck Video!
Also, check out the Critter Science YouTube channel. Videos added frequently!
Want to suggest a critter for me to write about? Let me know here.
Learn more about all kinds of cool critters, right here!