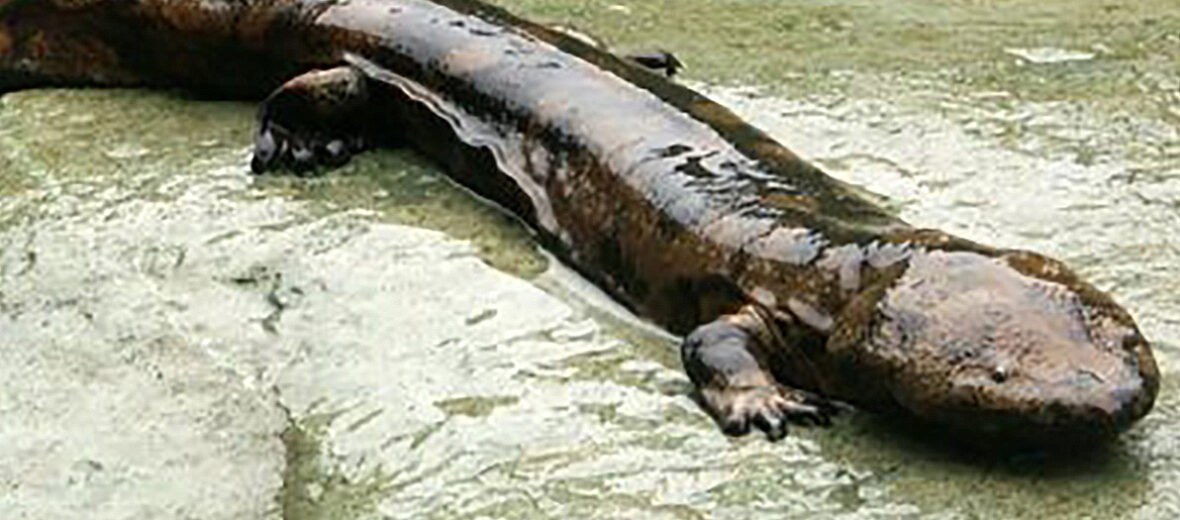 The Chinese giant salamander is a spectacle to behold. They are living fossils, having lived in the Jurassic period with the dinosaurs over 170 million years ago and surviving the meteor that all but extinguished life from this planet. They are part of 3 giant salamander species: the Japanese giant salamander and the hellbender, from the U.S. are the other 2. These salamanders are primarily aquatic and live in cooler, fast-flowing water with good oxygen content. Chinese giants are typically found in rivers that flow through forested and mountainous areas. Sadly, due to hunting, collection, and habitat destruction, these amazing creatures are listed as Critically Endangered by the IUCN.
First the Stats…
Scientific name: Andrias davidianus
Weight: Up to 55 lbs.
Length: Up to 6 feet
Lifespan: Up to 52 years
Now on to the Facts!
1.) Like all amphibians, these salamanders drink water and breathe oxygen through their skin.
2.) They prey on fish, worms, frogs, snails, insects, crabs, crayfish, and even smaller salamanders. Yes, they will even cannibalize their young.
3.) These salamanders have tiny eyes and relatively poor eyesight, so instead they rely on vibrations and smell in the water when hunting.
4.) The bumps on their skin, positioned primarily around their head, are actually external sensory organs that work like the lateral line system in fish.
5.) Their numbers have dropped by 80% over the past few decades, due primarily to poaching!
But wait, there's more on the Chinese giant salamander!
6.) The Chinese giant salamander makes sounds that resemble a baby crying. This has earned them the nickname "baby fish."
7.) Spawning season lasts from July – September. The males and females will gather at nesting sites up to 60 inches across to breed.
Did you know…?
Reintroduction efforts to help cull their extinction are often times met with ill results, as many re-released sallies are fully hybridized and have been known to carry the ranavirus. The ranavirus causes erythema, hemorrhage, body swelling, limb swelling, swollen & friable livers, and eventual death.
8.) Once they've mated, they will look for dens upriver with single openings to lay their eggs in.
9.) Females lay between 400 – 500 eggs in a long "string."
10.) Chinese giant salamanders are nocturnal (active at night).
But wait, there's still more on the Chinese giant salamander!
11.) When threatened, these giants will produce a milky white fluid that smells like pepper, to ward off predators.
12.) Males aggressively defend their burrows.
Now a Short Chinese Giant Salamander Video!
Also, check out the Critter Science YouTube channel. Videos added frequently!
Want to suggest a critter for me to write about? Let me know here.
Learn more about all kinds of cool critters, right here!