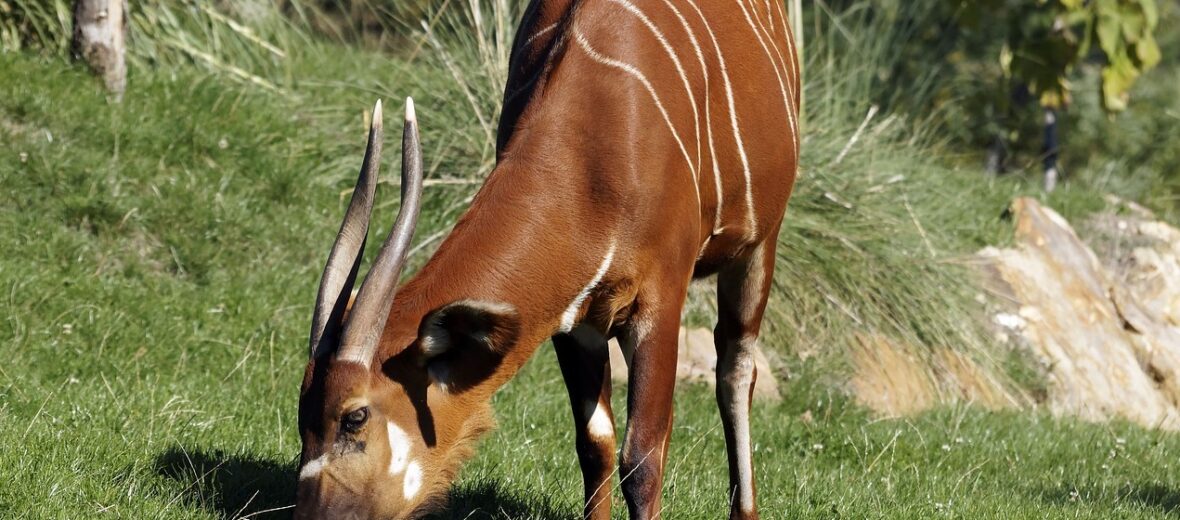 The bongo is the largest and heaviest species of antelope. They also boast some impressive horns. They're only found in rainforests with a mass of undergrowth across the tropical regions of Africa. They can be found in lowland rainforests of Western Africa as well as the Congo Basin, all the way to the Central African Republic and Southern Sudan. The bongo is listed as Near Threatened by the IUCN.
First the Stats…
Scientific name: Tragelaphus eurycerus
Weight: Up to 900 lbs.
Length: Up to 8+ feet
Height: Up to 50 inches (at the shoulder)
Lifespan: Up to 21 years
Now on to the Facts!
1.) There are two subspecies of bongo: lowland (western) and mountain (eastern).
2.) They have spiral horns that reach up to 39 inches in length!
3.) Bongos are crepuscular (active at dusk and dawn).
4.) A bongo will coat themselves in mud which acts as sort of a sun screen as well as cooling them down.
5.) If necessary, the bongo can reach speeds of up to 40+ mph!
But wait, there's more on the bongo!
To view more facts on this and many other critters, purchase my book Rainforest Critters. It's only $17.99 for an 84 page book! Available now through Amazon. Click the logo to purchase your copy now:
Now a Short Bongo Video!
Also, check out the Critter Science YouTube channel. Videos added frequently!
Want to suggest a critter for me to write about? Let me know here.
Learn more about all kinds of cool critters, right here!