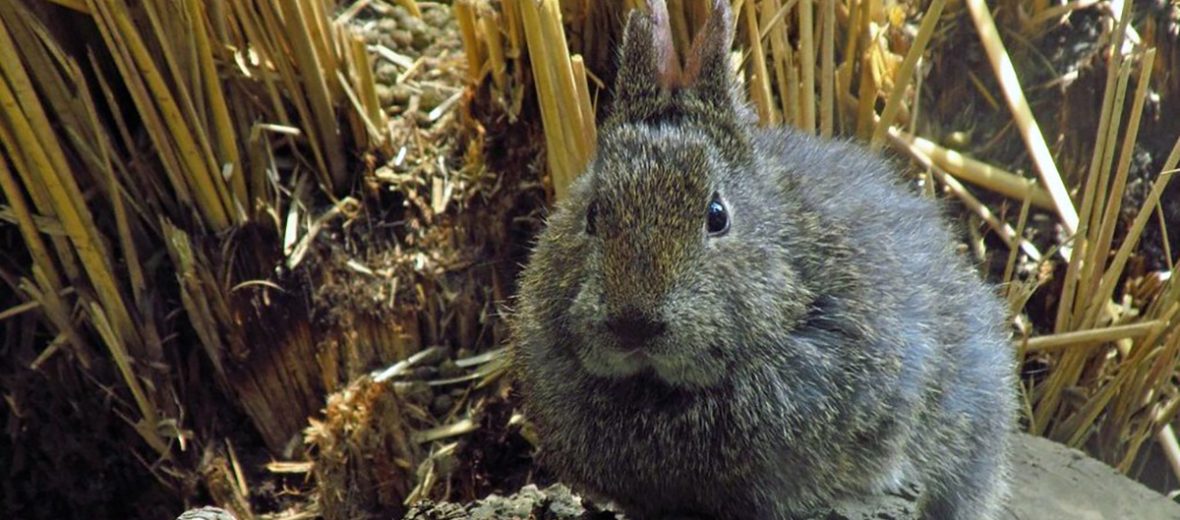 The volcano rabbit, aka Zacatuche or Teporingo, hails from the mountainous regions of Mexico and is the 2nd smallest known rabbit. With the Columbia Basin pygmy rabbit being the smallest known. Due to a decreasing population of only 7,000 wild individuals, these rabbits are listed as Endangered by the IUCN. They face the threats of habitat destruction at the hands of residential and commercial development, mining, logging, agriculture, and aquaculture; vehicle strike (being hit with vehicles); habitat division via roads; hunting; trapping; over collection of terrestrial plants; human-based recreational activities; fire suppression; invasive species (and with them disease); climate change; and lastly, albeit ironically… volcanic activity.
First the Stats…
Scientific name: Romerolagus diazi
Weight: Up to 1.3 lbs.
Length: Up to 12.5 inches
Lifespan: Up to 9 years
Now on to the Facts!
1.) Volcano rabbits dwell in colonies of up to 5 individuals.
2.) A group of rabbits is called a colony, herd, or nest.
3.) Differing from other rabbit species, the volcano rabbit prefers to emit high-pitched sounds, like pikas, rather than thumping their feet, for communication.
4.) They are semi-fossorial (spend part of their lives underground). The remaining time is spent in and around grass tussocks.
5.) These critters are crepuscular (active at dawn and dusk).
But wait, there's more on the volcano rabbit!
6.) Volcano rabbits are native to 4 volcanoes just southeast of Mexico City, the largest of these regions is found within the Izta-Popo National Park. The other areas are the Pelado and Chichinautzin volcanos.
7.) They prefer open pine woodlands, open pine forests, mixed alder pine forests, and grasslands.
Did you know…?
These rabbits can run up to 25+ mph!
8.) Their burrows can be up to 15 inches deep and up to 16.40 feet long.
9.) They inevitably create runways among the grass, as they scamper to and fro during their waking times; while searching for food and a mate.
10.) The volcano rabbit feeds on flowers, foliage, grasses, and leaves.
But wait, there's more on the volcano rabbit!
11.) Even though they breed throughout the year, their peak breeding season is from March – July.
12.) Females undergo up to a 42 day gestation (pregnancy) that yields up to 3 kittens.
Did you know…?
The tail of these rabbits is so small, that it's barely discernible.
13.) Kittens are able to reproduce at around 4 months of age.
14.) Coyotes, wolves, foxes, owls, eagles, and hawks all prey on volcano rabbits.
15.) The volcano rabbit is considered to be the most primitive species of rabbit alive today. A veritable living fossil.
Now a Short Volcano Rabbit Video!
Pick up your Critter Science books today, at Amazon!
Be sure to share & comment below! Also, check out the Critter Science YouTube channel. Videos added regularly!
Want to suggest a critter for me to write about? Let me know here.