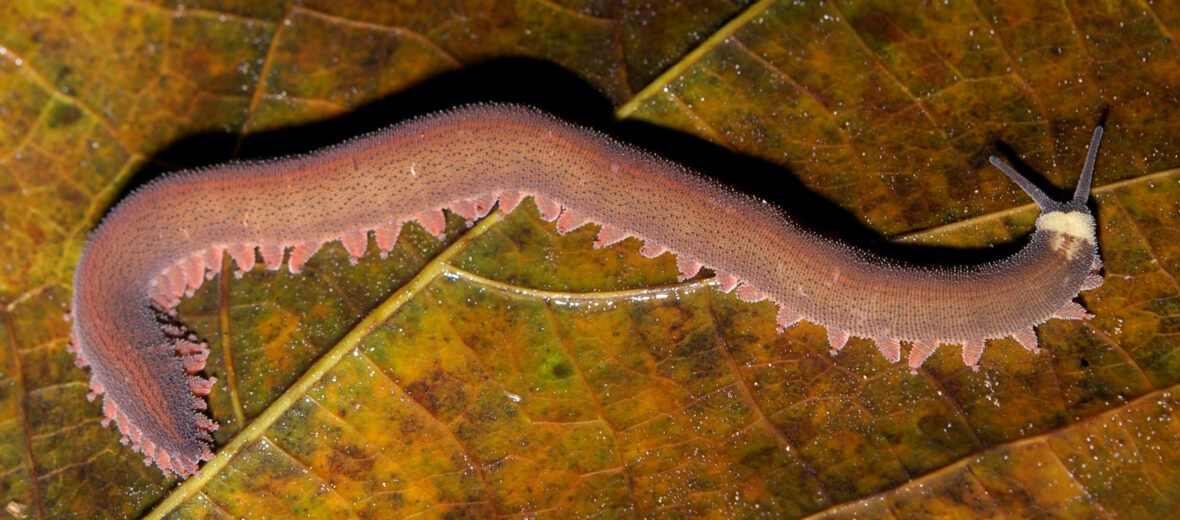 Changing very little in the last 500 million years, the velvet worm is a peculiar Predator with 180 species described to date. These odd creatures spend their time in the tropics, in Australia and in New Zealand. They are among the most rare of all rainforest animals. These critters may be slow but they are very adept and amazing hunters with a cool secret weapon. Velvet worms are proof that you don't have to be big or scary to be a predator.
First the Stats…
Scientific name: Udeonychophora
Length: Up to 8 inches
Lifespan: Up to 6 years
Now on to the Facts!
1.) Velvet worms have what is called a hydrostatic skeleton. This means that they have fluid-filled body cavities, covered with a thin skin which is kept hardened by pressurized internal fluids.
2.) These worms have velvety, waterproof skin.
3.) The papillae (tiny protrusions with bristles) are very sensitive to touch and smell.
4.) Velvet worms can have up to 43 pairs of feet! Each foot has a chitin claw that helps them move about more sturdily.
5.) As soon as their prey is captured, the velvet worm will find a soft spot. The worm then uses its large, curved fangs, made of inner and outer fang sets to tear its victim to shreds.
But wait, there's more on the velvet worm!
6.) Just like insects they breathe through tiny holes in their body called tracheae. Unlike insects, they aren't able to close these openings so they are subject to drying out. Hence they stay in moist vegetation.
7.) Some species are pack hunters that use a complex social organization and even group hierarchy, ruled by a matriarch.
Did you know…?
As a cool attack, they will shoot out a sticky goo that immobilizes their prey. The slime is ejected via muscular contractions and shot out of their 2 front legs, aka oral tubes. They can shoot this slime up to a foot or more away. The slime quickly hardens, the prey is trapped, and dinner is served.
8.) These worms use antennae to brush against their prospective prey. They pick up signals that indicate size, nutritional value, and the potential for danger.
9.) In some species, males deposit sperm packets on the female, who then absorbs the packets with a special enzyme. This leaves a burn mark on the skin of the female. The packets are absorbed into the bloodstream and delivered to their final destination.
10.) Other species go as far as to clone themselves, without the need of insemination.
But wait, there's still more on the velvet worm!
11.) Females can also go through delayed implantation (a delay in egg fertilization).
12.) Most give birth to live young. Some lay eggs. The juveniles are born looking just like miniature adults.
13.) Velvet worms are nocturnal (active at night).
Now a Short Velvet Worm Video!
Also, check out the Critter Science YouTube channel. Videos added frequently!
Want to suggest a critter for me to write about? Let me know here.
Learn more about all kinds of cool critters, right here!