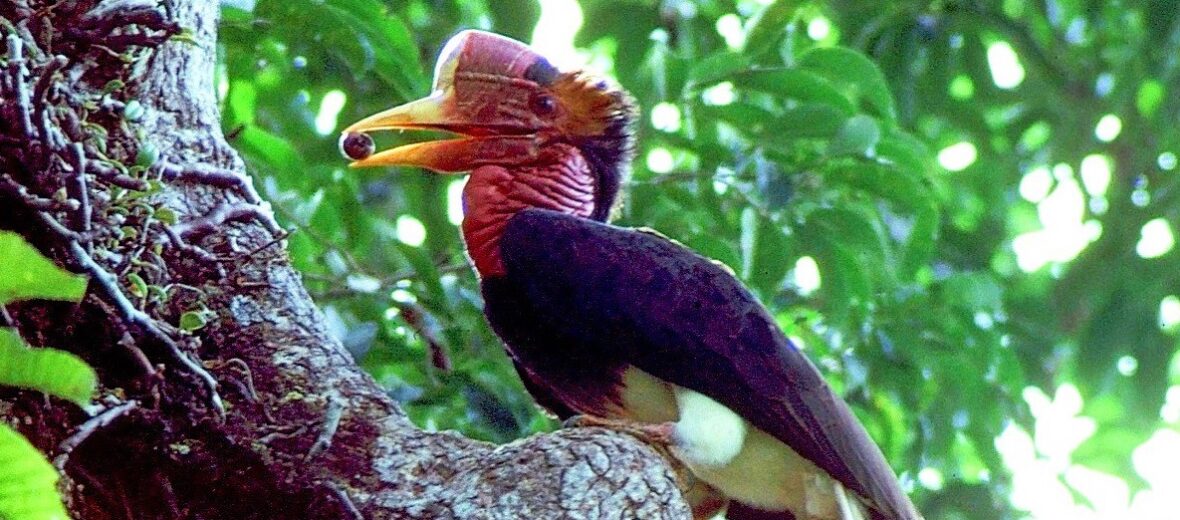 The helmeted hornbill is a cool critter indeed. From their large size, to their unique bill, to their unusual call that ends in a crazy laughing sound. These birds are more than worthy of an article. These critters are found in Sumatra, Malay Peninsula, and Borneo. The solid casque on their bill is made of a material called hornbill ivory (made up of keratin), which unfortunately is highly prized as a carving material in Japan and China. This bird is listed as Critically Endangered by the IUCN. Critically Endangered is one step before extinction. This article is on special request from my buddy, Phillips.
First the Stats…
Scientific name: Rhinoplax vigil
Weight: Up to 6.8 lbs.
Length: Up to 47 inches, plus a 20 inch tail
Wingspan: Up to 6+ feet
Lifespan: Up to 50 years
Now on to the Facts!
1.) Helmeted hornbills primarily eat figs and are often found in and around these trees, when the trees are in fruit.
2.) Being as they eat a variety of fruit (Frugivore) they are valuable seed dispersers. They also eat insects, on occasions.
3.) Their tail feathers are up to 3 feet long!
4.) This bird uses what is called a gular pouch (the patch of loose, wrinkled skin on its throat) to carry food back to the nest.
5.) The gular pouch is blue to greenish in females and red in males.
But wait, there's more on the helmeted hornbill!
6.) The male uses mud, feces (poop), and food remains to seal the nest's entrance and feeds the female through a small opening by regurgitating food from his gular pouch.
7.) The skull comprises up to 10% of the bird's weight!
Did you know…?
The call of this hornbill is described as multiple hoots followed by maniacal laughter.
8.) Females lay 2 eggs and incubates them for up to 45 days.
Now a Short Helmeted Hornbill Video!
Also, check out the Critter Science YouTube channel. Videos added frequently!
Want to suggest a critter for me to write about? Let me know here.
Learn more about all kinds of cool critters, right here!