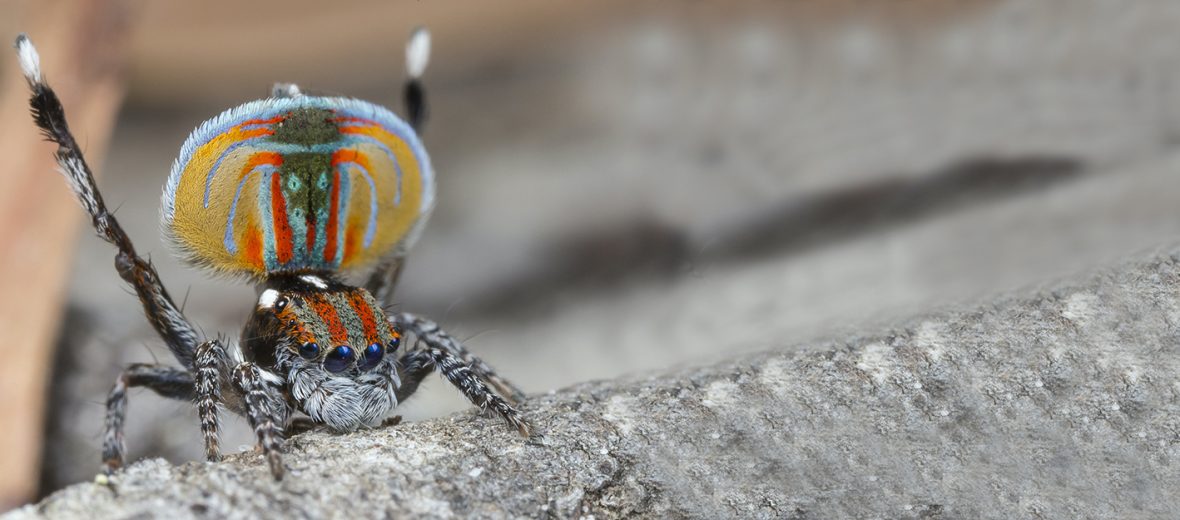 The peacock spider is a species in the jumping spider family that hails from the Australian Capital Territory, New South Wales, Queensland, Western Australia, and Tasmania. They tolerate a wide variety of habitats from sand dunes to grasslands. These are but 1 of the known 6,000 species of jumping spider. There are 50 known species of peacock spiders. Peacock spiders are not currently evaluated by the IUCN.
First the Stats…
Scientific name: Maratus volans
Length: Up to .23 inch
Lifespan: Up to 1 year
Now on to the Facts!
1.) Jumping spiders tend to have better vision than other arachnids. This is primarily due to their large, forward-facing eyes.
2.) These tiny creatures are able to jump up to 7.87 inches!
3.) Like other jumping spiders, they don't use webs to catch prey, rather they pounce on their prey; ambush style, in less than 1/10th of a second.
4.) They prey on smaller insects, spiders, and even each other.
5.) Female peacock spiders advertise their willingness to mate via a long strand of pheromone enriched thread that blows in the wind. This shows her location to nearby males. Afterwards, she will release new pheromones that signal she is no longer up for grabs.
But wait, there's more on the peacock spider!
6.) During the male's mating dance, he will flare up the plate that covers his abdomen, clap with his front legs, and raise a pair of their hind legs; all while shimmying back and forth.
7.) As is the case with spiders, the female, if not receptive to mating, may attempt to attack and kill the male – feeding on him shortly afterwards. This is known as sexual cannibalism.
Did you know…?
Researchers at the University of Manchester were able to train a jumping spider to jump on command.
8.) Females will sometimes lay multiple clutches of up to 15 eggs.
9.) Like other arachnids, these spiders don't have ears, but instead feel vibrations and deduce food or foe.
10.) In order to show off their colorful patterns, these spiders' scales have evolved nanoscopic lenses made out of naturally-formed carbon nanotubes. These are able to collect up to 99.97% of sunlight.
Now a Short Peacock Spider Video!
Be sure to share & comment below! Also, check out the Critter Science YouTube channel. Videos added regularly!
Want to suggest a critter for me to write about? Let me know here.
Think you know a lot about critters? Try your hand at these fun, free quizzes: