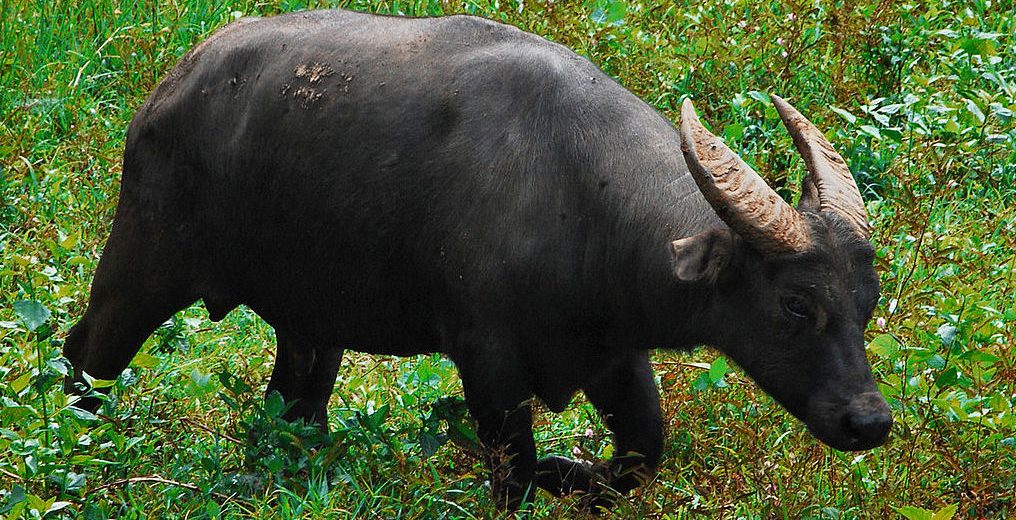 The tamaraw, aka Mindoro dwarf buffalo, hails from the island of Mindoro in the Philippines. These critters are the 2nd-largest native terrestrial mammal in the country. Number 1 is the carabao. Thanks to habitat destruction at the hands of residential and commercial development; competition for feeding land at the hands of agriculture; fire suppression; hunting; trapping; and invasive species (and with them disease and food competition), these once common bovines are now listed as Critically Endangered by the IUCN. There are only around 300 +/- wild specimens remaining, and these numbers are decreasing.
First the Stats…
Scientific name: Bubalus mindorensis
Weight: Up to 530 lbs.
Length: Up to 7.2 feet
Height: Up to 41 inches, at the shoulders
Lifespan: Up to 25 years
Now on to the Facts!
1.) Tamaraws are the only endemic Philippine bovines.
2.) They prefer thick brushes, open-canopied glades, grasslands, and marshes, all near a water source.
3.) While typically diurnal (active during the day), these critters have evolved to become nocturnal (active at night) in order to avoid human contact.
4.) Typically, these bovines are solitary. However, juveniles can be seen in very small groups.
5.) A group of bovines is called a drift, drove, herd, mob, team, or yoke.
But wait, there's more on the tamaraw!
6.) Mud wallowing is a common sight with these critters, as the mud assists in keeping them cool and aids in preventing biting insects.
7.) The bulls are especially aggressive and will often chase 1 another on sight.
Did you know…?
Due to a virulent strain of malaria, in circa 1900s, many people avoided the island of Mindoro. But as antimalarial medicines were developed, more and more people began moving there. Much to the dismay of the tamaraws.
8.) These critters feed on young bamboo shoots, various grasses, and wild sugarcane.
9.) Females undergo up to a 300 day gestation (pregnancy) that yields a single calf.
10.) Calves usually stay with mom for up to 4 years, before leaving to start life on their own.
Now a Short Tamaraw Video!
Be sure to share & comment below! Also, check out the Critter Science YouTube channel. Videos added regularly!
Want to suggest a critter for me to write about? Let me know here.
Photo credit: Gregg Yan – Lower resolution derivative work from original photograph personally provided by photographer., CC BY-SA 3.0, Link.