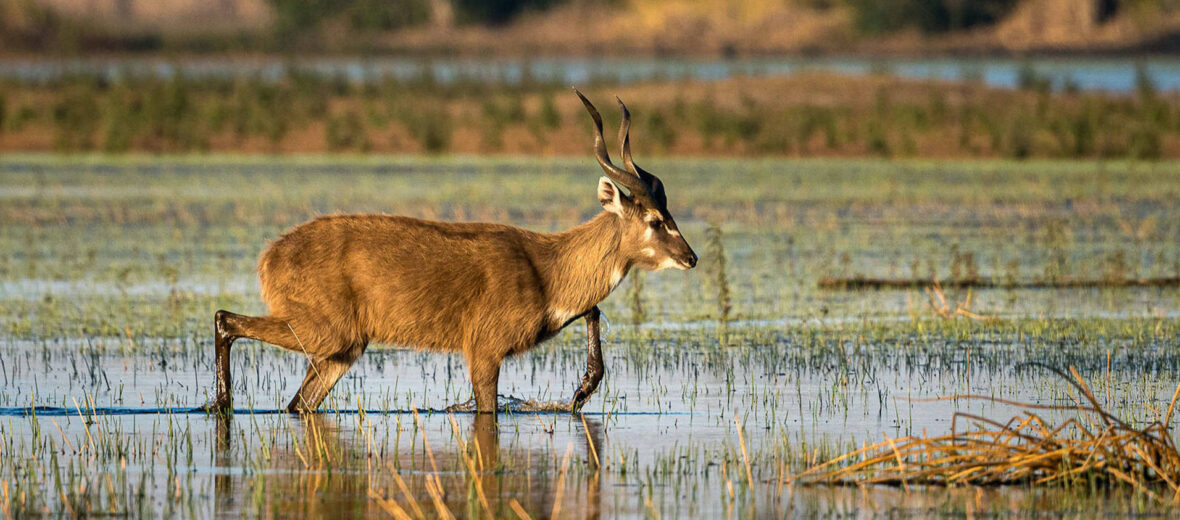 The sitatunga is an antelope native to central Africa. They can be found in tall, dense perennial vegetation as well as seasonal swamps, marshy forest clearings, riparian thickets, and mangrove swamps. With an estimated population of up to 120,000 wild individuals, these critters are listed as Least Concern by the IUCN, but their numbers are decreasing. Their primary foes are agricultural competition, habitat loss, and hunting/trapping.
First the Stats…
Scientific name: Tragelaphus spekii
Weight: Up to 275 lbs.
Length: Up to 5 feet
Height: Up to 49 inches
Lifespan: Up to 23 years
Now on to the Facts!
1.) These critters are crepuscular (active at dawn and dusk).
2.) While not terribly territorial, male sitatungas will engage in horn locking during the rut.
3.) They are typically solitary, but will form pairs and even small groups.
4.) Communication consists of touching noses, which can be followed by licking each other and even nibbling.
5.) Vocal communication can contain coughs or barks. These are loud enough to be heard from across the swamp.
But wait, there's more on the sitatunga!
6.) Males let out a low bellow when they come across a herd of females.
7.) These Herbivores (eat plant matter) graze on aquatic grasses, young foliage, sedges, flowers, buds, and seeds.
Did you know…?
They have been documented wading in deep water with only their nose and eyes above the water, to avoid predators and flies.
8.) These antelopes are polygynous (1 male mates with a harem of females).
9.) Females undergo up to an 8 month gestation (pregnancy) that yields a single calf.
10.) Due to their pointed toes, these creatures can walk through water almost silently.
But wait, there's still more on the sitatunga!
11.) Sitatungas are strong swimmers.
12.) They build resting areas by trampling down reeds and making a bed.
Now a Short Sitatunga Video!
Be sure to share & comment below! Also, check out the Critter Science YouTube channel. Videos added frequently!
Want to suggest a critter for me to write about? Let me know here.
Learn more about all kinds of cool critters, right here!