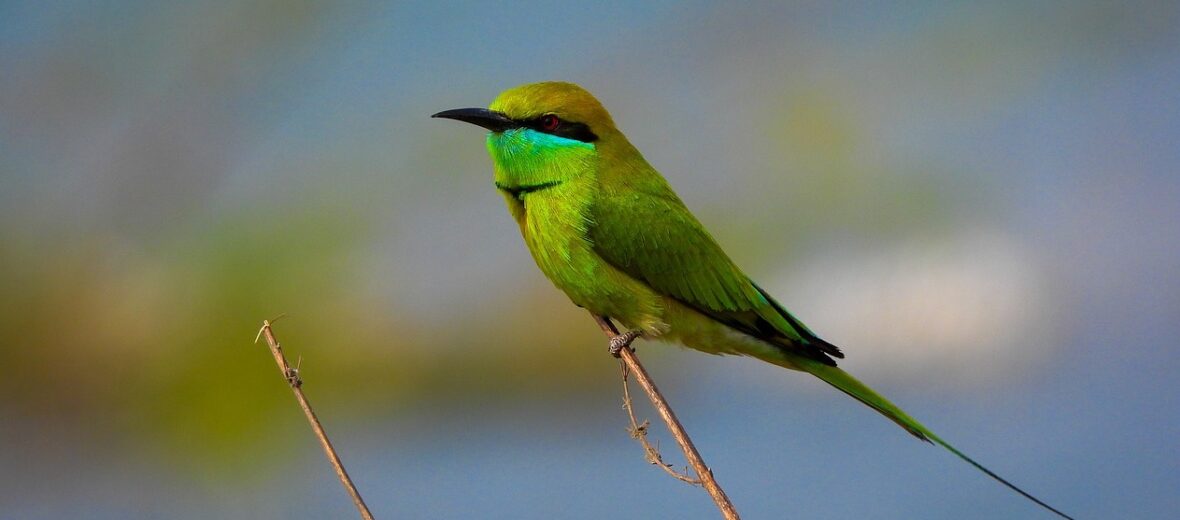 Found in Europe, Asia, Africa, Madagascar, and even Australia, the stunningly beautiful bee-eater is a site to behold. Perhaps, arguably, one of the prettiest bird species out there. These birds are sociable and glamorous. When they see a meal, they also dart after it, like a little rocket. There are 22 known bird-eater species in the wild, to date. Fortunately, these beautiful avians are generally listed as Least Concern by the IUCN; with stable populations.
First the Stats…
Scientific name: Merops
Weight: Up to 3 ounces
Length: Up to 9.5 inches
Wingspan: Up to 16 inches
Lifespan: Up to 6 years
Now on to the Facts!
1.) These birds are amazing to watch. They will grab flying insects from mid air, bang their heads again a branch or rock to stun their prey, rub their abdomens against a rough surface to remove any potential stinger and toxins, and chow down!
2.) Bee-eaters are primarily monogamous (mate for life) across all their species.
3.) They can live in gregarious flocks of up to 300 birds.
4.) The bee-eater is a master of flight, performing a variety of twists, turns, and other acrobatics in order to land a tasty meal.
5.) Prey items include bees, wasps, damselflies, butterflies, dragonflies, moths, Hymenoptera, beetles, termites, crickets, caterpillars, and spiders.
But wait, there's more on the bee-eater!
6.) Fearless by nature, they will fly directly at a Predator, calling loudly. Soon, the rest of the flock is also chasing after the presumed predator.
7.) Their predators include, in part: dingoes, monitor lizards, and cane toads (the toads eat the chicks).
Did you know…?
These little critters can acrobatically fly up to 27 mph!
8.) Breeding season lasts from March – August.
9.) Females lay between 4 – 8 eggs that incubate in about 22+ days.
10.) If a potential predator begins looking at their nest, the bee-eater will not enter it until the predator loses interest. This amazing behavior demonstrates that the bird is not only aware of what the predator is thinking, but also suggests awareness of a predator's mental state. This behavior has only been observed in humans and primates.
Now a Short Bee-Eater Video!
Also, check out the Critter Science YouTube channel. Videos added frequently!
Want to suggest a critter for me to write about? Let me know here.
Learn more about all kinds of cool critters, right here!