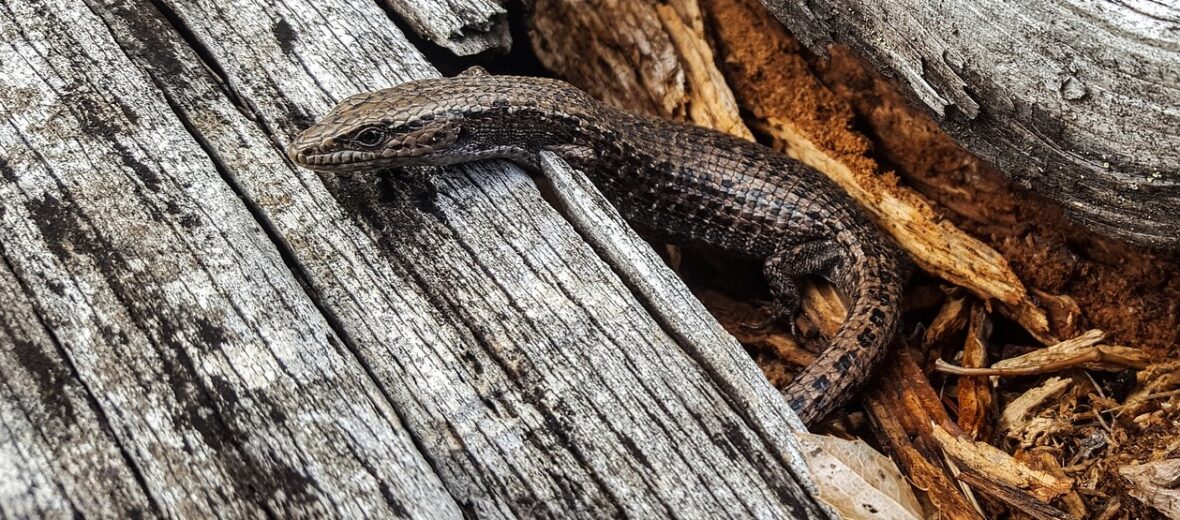 The southern alligator lizard is a common occurrence on Santa Cruz, San Miguel, Santa Rosa Islands in the national park as well as almost any rural and suburban habitat along the coasts and slightly inland of Baja California, and California. The northern alligator lizard resides in Oregon and Washington. They typically stay away from deserts and high elevations. I used to observe and release these critters as a kid. They come in a variety of colors, like gray, brown, green, reddish, and even yellowish. They often have red blotches located along the middle of their back.
First the Stats…
Scientific name: Elgaria multicarinata
Weight: Up to 1.2 ounces
Length: Up to 12 inches
Lifespan: Up to 15 years
Now on to the Facts!
1.) These lizards are diurnal (active during the day).
2.) Southern alligator lizards shed their skin in a single intact piece, essentially turning it inside out as they crawl out of it, exposing their shiny new scales.
3.) Their primary self defense is to bite, defecate, and drop their tail.
4.) During colder winter months, they will brumate in burrows or rocky crevices.
5.) When an alligator lizard loses it's tail, in what is called caudal autotomy, it takes a while to grow back and it doesn't look the same as the original.
But wait, there's more on the southern alligator lizard!
6.) They prey on insects, centipedes, scorpions, sow bugs, snails, slugs, lizards, small mammals, and even young birds and their eggs. Cannibalism also occurs.
7.) In cooler regions, alligator lizards will mate from April – May. In warmer regions they will mate all year long.
Did you know…?
These critters are actually capable of eating prey nearly as large as themselves!
8.) Females lay between 5 – 20 eggs.
Now a Short Southern Alligator Lizard Video!
Also, check out the Critter Science YouTube channel. Videos added frequently!
Want to suggest a critter for me to write about? Let me know here.
Learn more about all kinds of cool critters, right here!