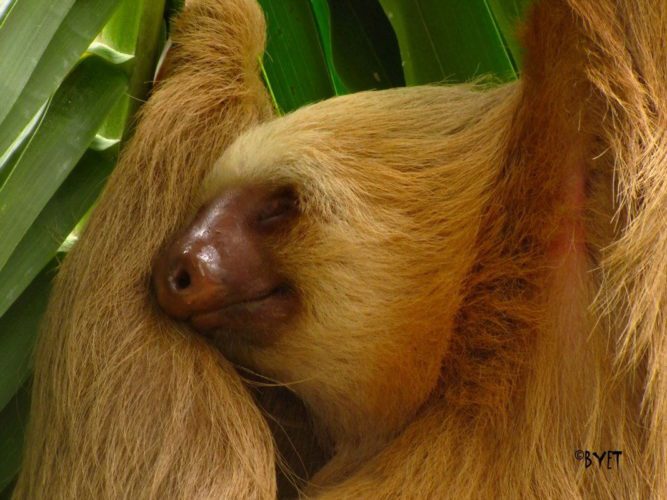 When it comes to speed and hunting prowess, one does not think of these critters. They are the total opposite of those descriptions. Yes, the sloth. One of the slower of the animals in the animal kingdom. They are so slow, in fact, that moss actually grow on their fur.
Check out these cool fun facts about this sedentary critter…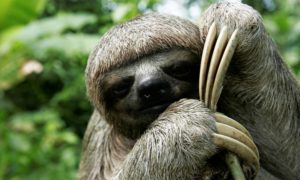 First the stats:
Scientific name: Folivora
Daily sleep: 10-12 hours
Rank: Suborder
Mass: Brown-throated sloth: 5 – 14 lbs
Pale-throated sloth: 8.4 – 14 lbs
Maned sloth: 9.9 – 22 lbs
Gestation period: Brown-throated sloth: 171 days
Pale-throated sloth: 183 days
Maned sloth: 150 days
Length: Brown-throated sloth: 17 – 31 in.
Pale-throated sloth: 20 – 30 in.
Maned sloth: 1.8 – 2.5 ft.
Species: Choloepus (lame foot), Choloepus didactylus (Linnaeus's two-toed sloth), Choloepus hoffmanni (Hoffmann's two-toed sloth), Bradypus variegatus (brown-throated sloth), Bradypus torquatus (the maned sloth), Bradypus tridactylus (the pale-throated sloth), Bradypus pygmaeus (pygmy three-toed sloth)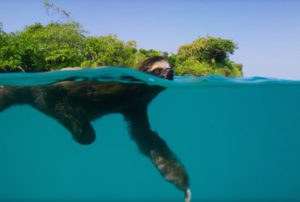 Now the Facts
1.) Sloths may be slow on land, but can actually swim quite gracefully.
2.) There are two types of sloth the two-toed sloth and the three-toed sloth, they are classified into six different species. All sloths actually have three toes, but the two-toed sloth has only two fingers.
3.) Skeletons of now extinct species of sloth suggest some varieties used to be as large as elephants.
4.) Sloths mainly eat the tree buds, new shoots, fruit and leaves, of the Cecropia tree. Some two-toed sloths will also eat insects, small reptiles, and even birds.
5.) Sloths can move along the ground at just 2 m (6.5 ft) per minute! In the trees they are slightly quicker at 3m (10ft) per minute.
6.) Sloths have a four-part stomach that very slowly digests the tough leaves they eat, it can sometimes take up to a month for them to digest a meal. Digesting this diet means a sloth has very little energy left to move around making it one of the slowest moving animals in the world.
7.) Sloths can move along the ground at just 2 m (6.5 ft) per minute! In the trees they are slightly quicker at 3 m (10 ft) per minute.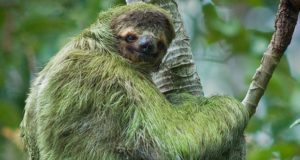 8.) The slow-movement and unique thick fur of the sloth make it a great habitat for other creatures such as moths, beetles, cockroaches, fungi, and algae. In fact, this green colored algae provides a camouflage so sloths can avoid predators.
9.) Two-toed sloths are nocturnal. Three-toed sloths are diurnal.
10.) Sloths usually only leave the tree they live in to go to the toilet once a week on the ground.
11.) Sloths are vulnerable to being attacked by their main predators such as jaguars, the harpy eagle and snakes.
12.) In the wild, sloths live on average 10 – 16 years and in captivity over 30 years.
13.) Though their ancestors lived in North America, modern sloths live in Central and South America, enjoying the tall trees found in rain and cloud forests.
14.) Sloths mate in trees and give birth to their young in trees. Courting starts when a female yells a mating scream to let the males in the area know she is ready to mate. Males will fight for her by hanging from branches by their feet and pawing at each other. The victor wins the prize of mating with the female.
15.) Like many other mammals, sloths only have one baby at a time. Baby sloths have a gestation of five to six months for some types sloths and as much as 11.5 months for others, such as the Hoffman's two-toed sloth.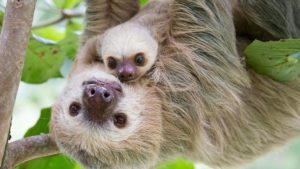 Reproduction
After they are born, the babies aren't in a hurry to leave their mother. They ride around clinging to their mother's belly for several weeks after birth. Even after they stop dangling from their mother, little sloths stay by their mother's side for up to four years.
Conservation Status
The pygmy three-toed sloth is on the IUCN Species Survival Commission's top 100 list of most threatened species. These tiny sloths can only be found on Escudo Island, which is found off the coast of Panama.
The three extinct families are:
Megatheriidae: ground sloths that existed for about 23 million years and went extinct about 11,000 years ago.
Mylodontidae: ground sloths that existed for about 23 million years and went extinct about 11,000 years ago.
Nothrotheriidae: ground sloths that lived from approximately 11.6 million to 11,000 years ago. As well as ground sloths this family included Thalassocnus, a genus of semi- or fully aquatic sloth.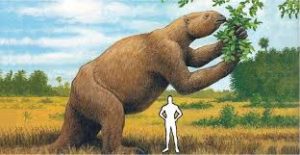 Back in the day
Ground sloths lived in South America and, after the Great American Interchange, North America. They disappeared shortly after the appearance of humans about 11,000 years ago. Evidence suggests human hunting contributed to the extinction of the American megafauna. Ground sloth remains found in both North and South America indicate that they were killed, cooked, and eaten by humans. Climate change that came with the end of the last ice age may have also played a role. Megalocnus survived on the Antilles until about 5,000 years ago, long after other ground sloths died out on the mainland, but then went extinct when humans finally arrived there too.
Source: Some information and stats obtained from Wikipedia.