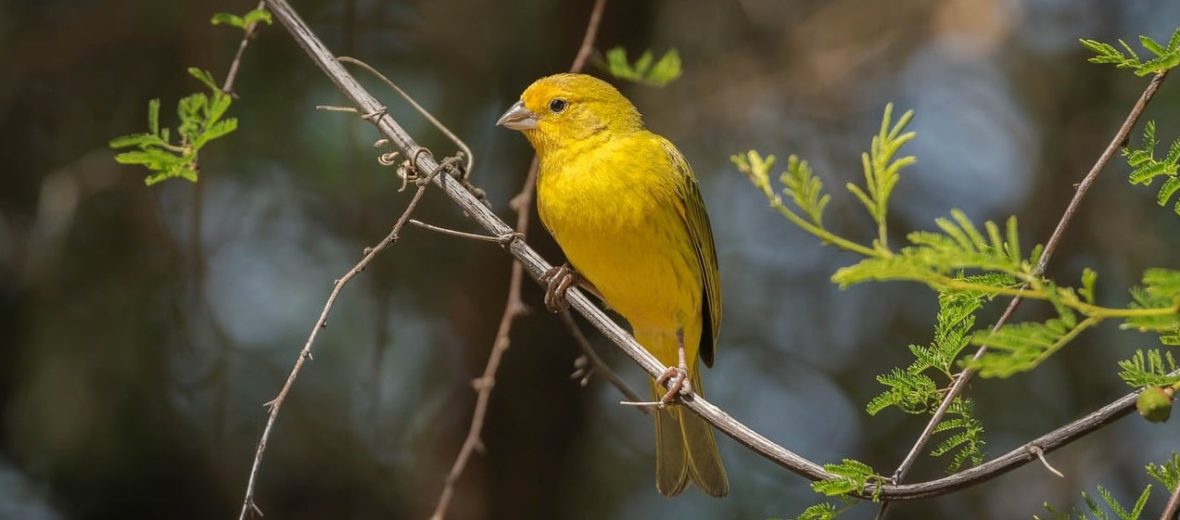 The saffron finch hails from South America yet has been introduced to Hawaii, Panama, Puerto Rico, and more locales. These pretty birds prefer open and semi-open areas in lowlands outside of the Amazonian Basin. They also inhabit gardens and backyard bird feeders. Due to stable numbers these birds are listed as Least Concern by the IUCN. This article is on special request from my friend, Eleanor.
First the Stats…
Scientific name: Sicalis flaveola
Weight: Up to .77 ounce
Length: Up to 5.5 inches
Wingspan: Up to 8 inches
Lifespan: Up to 12 years
Now on to the Facts!
1.) Even though these birds are typically referred to as canaries, they are not related to canaries.
2.) In 1766, the Swedish naturalist Carl Linnaeus formally described these birds.
3.) The saffron finch is currently placed in the genus Sicalis that was introduced in 1828 by the German zoologist Friedrich Boie.
4.) Females are typically a duller coloration of the males. But sometimes they will have a striped coloration.
5.) These finches eat wild seeds, grass seeds, and various insects.
But wait, there's more on the saffron finch!
6.) Saffron finches are non-migratory.
7.) Males mate with 2 or more females each breeding season.
Did you know…?
These finches belong to the order Passeriformes. This order makes up more that half of the world's bird populations.
8.) Females lay up to 4 eggs that hatch in up to 14 days.
9.) These birds are relatively tolerant of humans being nearby.
10.) Songbirds or oscines have among the most control of their vocal chords of any known bird. This allows them to produce a wide range of songs and vocalizations.
Now a Short Saffron Finch Video!
Be sure to share & comment below! Also, check out the Critter Science YouTube channel. Videos added regularly!
Want to suggest a critter for me to write about? Let me know here.