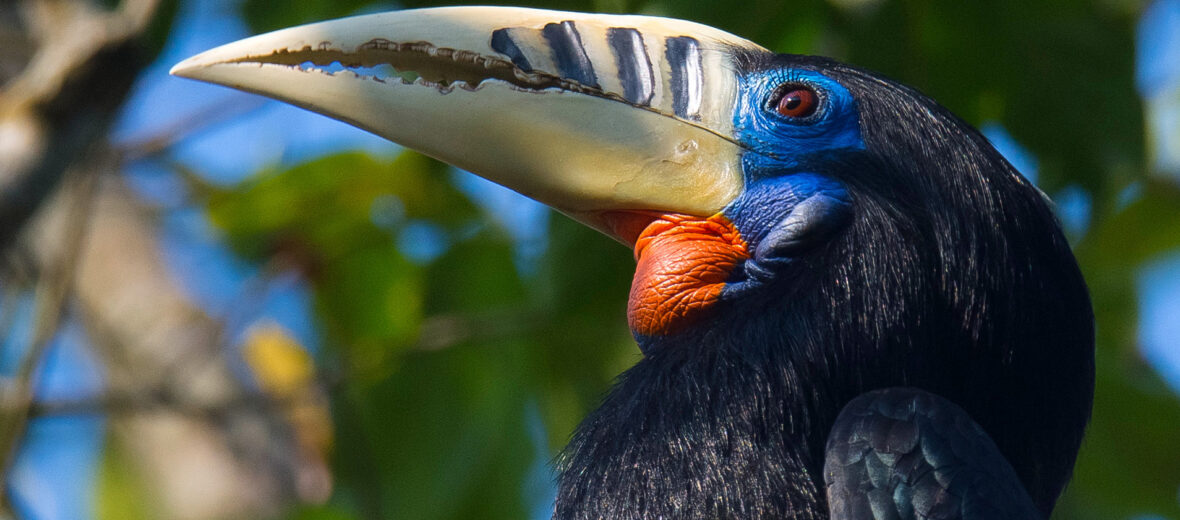 The rufous-necked hornbill, aka rufous-cheeked hornbill, hails from Bhutan, northeastern India, Arunachal Pradesh, the Indian Subcontinent, and Southeast Asia. They prefer mature, dense, evergreen and broadleaf forests, as well as dry woodlands. Due to substantial habitat destruction, hunting, and trapping, these birds are listed as Vulnerable by the IUCN. Their populations number fewer than an estimated 10,000 wild individuals and their numbers are decreasing.
First the Stats…
Scientific name: Aceros nipalensis
Weight: Up to 5.5 lbs.
Length: Up to 46 inches
Wingspan: Up to 59 inches
Lifespan: Up to 50 years
Now on to the Facts!
1.) These birds are typically found from 1,800 – 5,400 foot elevations.
2.) Arunachal Pradesh tribal members hunt these birds for their plumage and their beak.
3.) The rufous-necked hornbill appears in Sanskrit literature under the name vārdhrīnasa.
4.) Male rufous-necked hornbills are notoriously jealous birds that go out of their way to get the attention of a female.
5.) They mostly feed on fruit, like figs, but they will also prey on small reptiles, small mammals, birds, and insects.
But wait, there's more on the rufous-necked hornbill!
6.) They are monogamous (mate for life).
7.) These hornbills breed from March – June.
Did you know…?
Rufous-cheeked hornbills can fly up to 18 mph.
8.) After mating, the female will be sealed up on a large tree hollow, with just a small slit opening where the male will pass food through for mom and her chicks.
9.) When in this sealed hollow, the female will undergo a complete molt (lose all her feathers).
10.) Owls, eagles, and humans prey on these hornbills.
Now a Short Rufous-Necked Hornbill Video!
Be sure to share & comment below! Also, check out the Critter Science YouTube channel. Videos added frequently!
Want to suggest a critter for me to write about? Let me know here.
Learn more about all kinds of cool critters, right here!