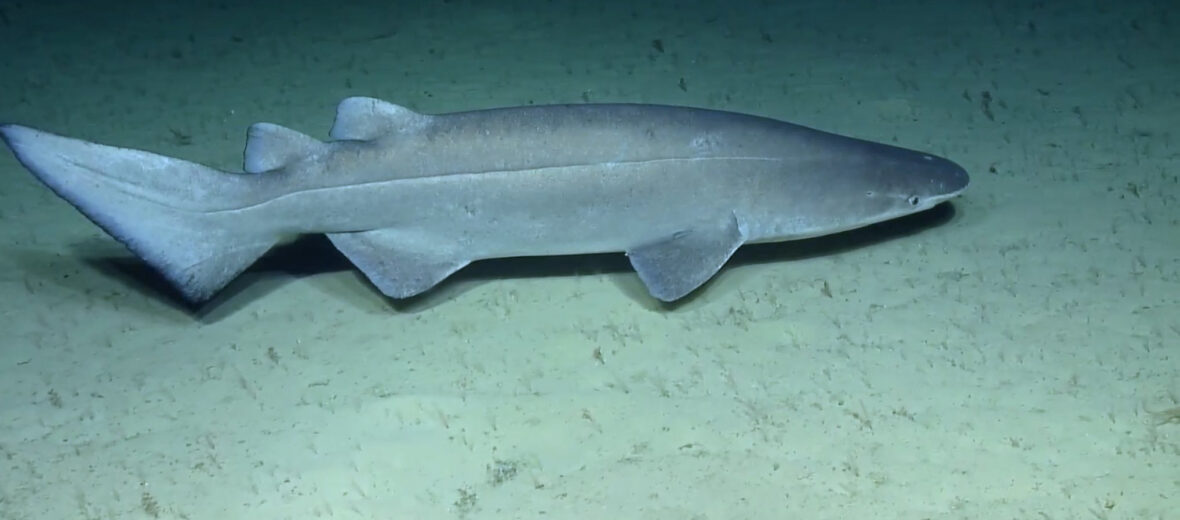 The prickly shark can be found in smaller locales in the Pacific Ocean. They prefer cooler waters, up to 2,130 feet deep. However, they can also be found frequenting shallow waters in places like Monterey Bay, California. Due to overfishing, long lines, and deep water trawling, these sharks are a potentially at risk species. But they are listed as Data Deficient by the IUCN. It is presumed that their numbers are also decreasing.
First the Stats…
Scientific name: Echinorhinus cookei
Weight: Up to 586 lbs.
Length: Up to 13.1 feet
Lifespan: Unknown
Now on to the Facts!
1.) These sharks are nocturnal (active at night).
2.) Each evening, these sharks engage in what is known as a diel migration to shallower inshore waters at dusk. This is where they leave their dark ocean habitat to move to shallower water to hunt.
3.) Their name is derived from the dense covering of thorn-like dermal denticles (scales) covering their body.
4.) Prickly sharks prey on cartilaginous fish, bony fish, and various cephalopods.
5.) These critters have not been known to be dangerous to humans.
But wait, there's more on the prickly shark!
6.) Viktor Pietschmann, an Austrian ichthyologist, described this species in 2 separate publications. Both in 1928 and again in 1930.
7.) The shark was named in honor of C. Montague Cooke Jr., a conchologist at the Bishop Museum.
Did you know…?
There isn't much risk of overfishing these sharks as their meat is soft and not favored.
8.) This shark is a slow swimmer that spends it's days hovering just above the sea floor.
9.) Juveniles face predation from bluntnose sixgill sharks. But adults have few, if any, predators.
10.) Females have been documented carrying up to 113 pups!
Now a Short Prickly Shark Video!
Be sure to share & comment below! Also, check out the Critter Science YouTube channel. Videos added frequently!
Want to suggest a critter for me to write about? Let me know here.
Learn more about all kinds of cool critters, right here!