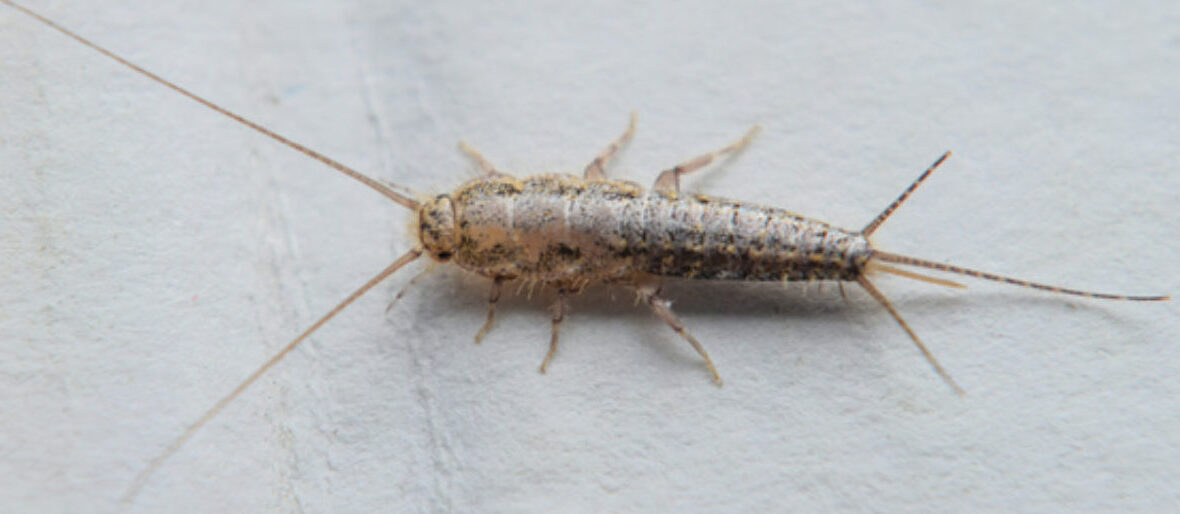 The silverfish. You've seen them crawling up your wall, cozying up in that stack of old newspapers or cardboard boxes, and maybe in your bathroom. Ancestors of these nuisance insects are among the most primitive known to man. They evolved around the mid-Devonian period. That's over 350 million years ago! So, needless to say, they aren't going anywhere any time soon.
First the Stats…
Scientific name: Lepisma saccharina
Length: Up to .33 inch
Lifespan: Up to 8 years
Now on to the Facts!
1.) Silverfish, along with insects like jumping bristletails, developed before winged insects; millions of years ago. None of the 600 known species of modern silverfish have wings.
2.) "The freaks come out at night…" These bugs are nocturnal (active at night).
3.) These arthropods never reach the adult phase. Even though they can molt (shed their exoskeleton) up to 50 times in their lives.
4.) They love dextrin and starches that are found in glue and dried wallpaper paste. Yummy.
5.) Their diet mainly consists of plaster, coffee, hair, cereal, cereal boxes, dandruff, dead skin, rice, pasta, flour, sugar, linen, cotton, and even photographs. And I thought my kids ate everything in sight.
But wait, there's more on the silverfish!
6.) They don't bite and aren't known to carry any diseases. These resilient creatures have the incredible ability to live up to a year without food, as long as there is water or general moisture available.
7.) Getting rid of them is relatively easy. Keep a clean and clutter-free home, store food items in plastic containers, and don't store books or other paper products in cardboard. If you still get them, then call your local exterminator. They'll get rid of them with modern science… pesticides!
Did you know…?
The male and female engage in a detailed mating ritual to produce their offspring externally. This courtship can last up to half an hour!
8.) After approximately 9 molts, they are capable of reproduction.
9.) Female silverfish are capable of producing lots of eggs during their lifetime. The eggs are laid in groups of 2 – 3 a day or in groups of 2 – 20, depending on the species.
10.) Females can reproduce at any time during the year. The eggs take 19 – 43 days to hatch. The life cycle from egg to adult is 3 – 4 months, or about 9 molts.
Now a Short Silverfish Video!
Also, check out the Critter Science YouTube channel. Videos added frequently!
Want to suggest a critter for me to write about? Let me know here.
Learn more about all kinds of cool critters, right here!