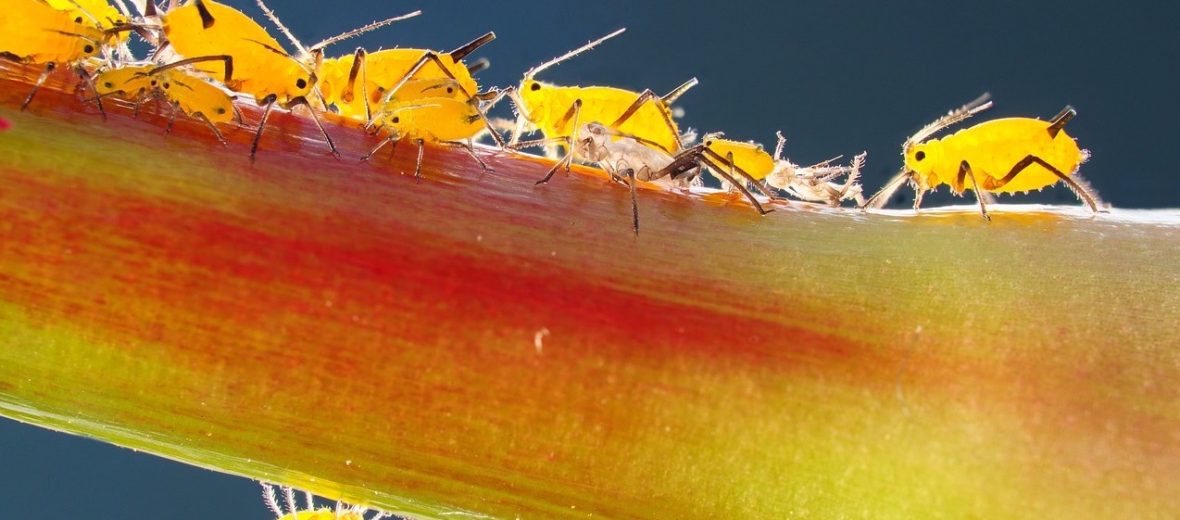 The aphid, aka greenfly or blackfly (although they can come in many colors), can be found on every continent, sans Antarctica. These pests exist to provide a slow death to plants, the world over. But they are more than just a pest species. They are not only fascinating, but rather sophisticated, for a tiny insect. Just ask your friendly neighborhood entomologist. Due to their abundance and their habit of being a pest, these insects are not currently evaluated by the IUCN.
First the Stats…
Scientific name: Aphidoidea
Length: Up to 0.125 inch
Lifespan: Up to 1 month
Now on to the Facts!
1.) These tiny critters have a host of predators. Creatures such as lacewings, ladybugs, minute pirate bugs, big-eyed bugs, hoverfly larvae, damsel bugs, and certain stinging wasps, aphid midge larvae, crab spiders, and entomopathogenic fungi (a specialized fungus that can disable and/or kill insects).
2.) Aphids dine by piercing the host plant's phloem tissue with specialized mouthparts and then they literally suck the life out of every plant they infest.
3.) In order to obtain enough protein to survive, they have to drink a lot of the plant's sap. Most of this sap goes to waste and is excreted as sweet poop, aka honeydew.
4.) Not only can aphids fly from host plant to host plant, but they are also farmed by sugar loving ants and carried to other plants. This is in order for the ants to collect more honeydew to feed their insatiable appetite.
5.) The aphid has special tubular organs towards their back end. These cornicles or siphunculi excrete a sticky, waxy substance that is meant to thwart predators, such as parasitoid wasps.
But wait, there's more on the aphid!
6.) Their cornicles are also used to release a chemical pheromone that warns of impending doom. This pheromone is picked up by the other aphids and they flee, as fast as aphids can flee, that is.
7.) Some aphids, in an effort of self preservation, will use the spines on their legs to pierce the eggs of predatory insects. This is an attempt to kill their foe(s) in vitro.
Did you know…?
Aphids have a self defense mechanism in their hind legs. They go all MMA and attack potential predators with kicking motions. If they start losing the fight, they simply drop off their host plant and make a run for it. Or they fly away.
8.) Their are several gall-making aphids that will produce offspring solely for their protection. These offspring are called soldiers. These soldiers are females and they never molt into adulthood.
9.) If the host plant dries up and dies, if environmental conditions take a drastic turn, or simply if there are just too many aphids on 1 plant, these critters will produce a generation of alates, aka winged adults. Then these winged adults fly off to find another host plant.
10.) Female aphids are Parthenogenetic (don't need a male to reproduce).
But wait, there's still more on the aphid!
11.) A female aphid is capable of being gravid (pregnant) with developing young, which are themselves currently carrying developing young. This helps speed up reproduction. Makes sense, since they have but a 1 month lifespan.
12.) Females are viviparous (give live birth, skipping the egg stage).
13.) The control of aphids, on your plants, is not an easy task. Many aphids have evolved towards being immune to some pesticides. Plus, they tend to hang out on the undersides of leaves, where the pesticides that do work, can't get to them.
14.) Water jets and soap sprays are the most effective chemical control methods.
Now a Short Aphid Video!
Be sure to share & comment below! Also, check out the Critter Science YouTube channel. Videos added regularly!
Want to suggest a critter for me to write about? Let me know here.
Think you know a lot about critters? Try your hand at these fun, free quizzes: