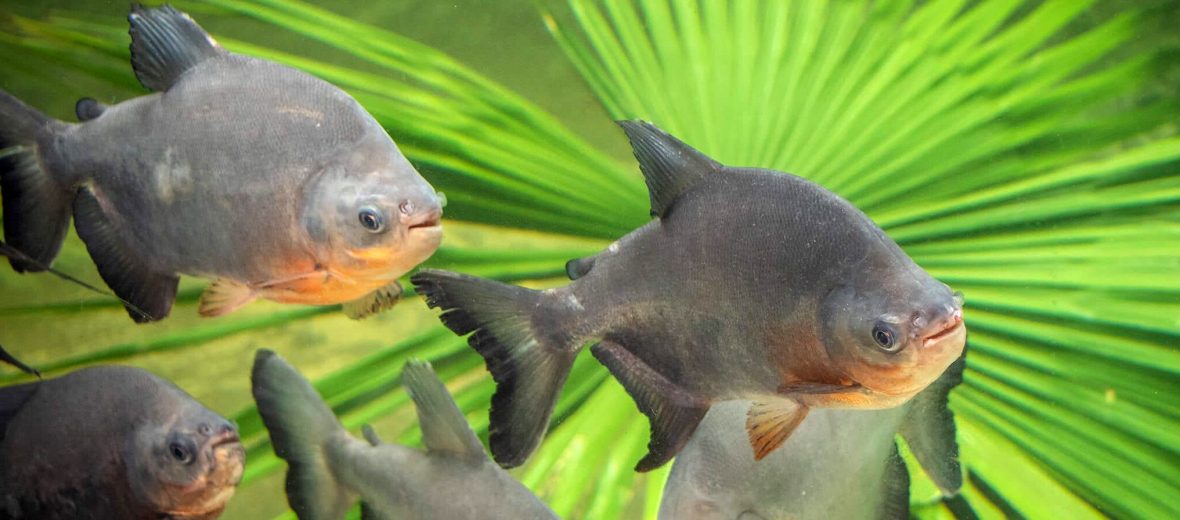 The pacu is often misidentified as a piranha. While in the same family, they are different fish with far different behaviors. Pacus can be found in tropical and subtropical South America. They prefer lakes, rivers, floodplains, and flooded forests located in the Amazon, Orinoco, Río de la Plata Basins, São Francisco River, and in the Guianas. Generally speaking, these fish are listed from Least Concern to Endangered, based on the species of pacu.
First the Stats…
Scientific name: Piaractus
Weight: Up to 88 lbs.
Length: Up to 3.5 feet
Lifespan: Up to 15 years
Now on to the Facts!
1.) While related to piranha, there are several distinct differences that set them apart. For instance, the teeth of a pacu are square and non-serrated. Whereas the piranha has sharp and pointed teeth.
2.) Another difference is that pacu are Omnivorous (eat plant and animal matter) and have a more docile temperament.
3.) Pacus also have less of an underbite and sometimes even a slight overbite.
4.) Finally, pacus get much larger than their sharp-toothed cousins.
5.) Pacus and piranhas are actually a characin fish, meaning that they are a type of tetra. Yep. The peaceful community fish you see in pet stores, the world over.
But wait, there's more on the pacu!
6.) They are classified into the Serrasalmidae family. This means "serrated salmon family" and is in reference to the serrated keel running along their stomach.
7.) Unfortunately, some aquarists have released these fish into local waters. This is not only illegal, but highly advised against. These fish can quickly become invasive and devastate local aquatic fauna. Don't be that person.
Did you know…?
In a strait between Sweden and Denmark, in 2013, a pacu was captured and it was then that they were labelled, incorrectly, as testicle biters. Due to their ability to crush tough tree nuts, the joke arose and caused a stir and a mislabeling.
8.) It is highly advised that if you no longer want a pacu, that you should rehome it to another aquarist's set up or remove their head and discard the fish in the garbage. Or, better yet, if you won't have the means to care for a full grown pacu, just don't get them to begin with. Problem solved.
9.) In their native ranges, these fish are widely captured and even farmed for food.
10.) Due to their powerful jaws, special consideration should be taken when wishing to purchase a pacu. There was an incident where a toddler needed surgery after a pacu bit the child's finger at Edinburgh Butterfly & Insect World, in Scotland. More of a parenting problem than a fish problem, if you ask me.
But wait, there's still more on the pacu!
11.) These fish are popular game and food fish. Anglers travel from far and wide to capture wild specimens.
12.) Pacus lay only a single egg in their lifetime.
Did you know…?
Black and red-bellied pacus are the most commonly kept in the fish trade.
13.) Their diet consists of fruits, decaying plant matter, seeds, grains, snails, & other smaller fish.
14.) The primary predators are crocodiles and larger fish; not to mention humans.
15.) The pacu can swim up to 10 mph.
16.) The name pacu hails from the Tupi-Guarani language and it means quick eater.
Now a Short Pacu Video!
Be sure to share & comment below! Also, check out the Critter Science YouTube channel. Videos added regularly!
Want to suggest a critter for me to write about? Let me know here.
Think you know a lot about critters? Try your hand at these fun, free quizzes: