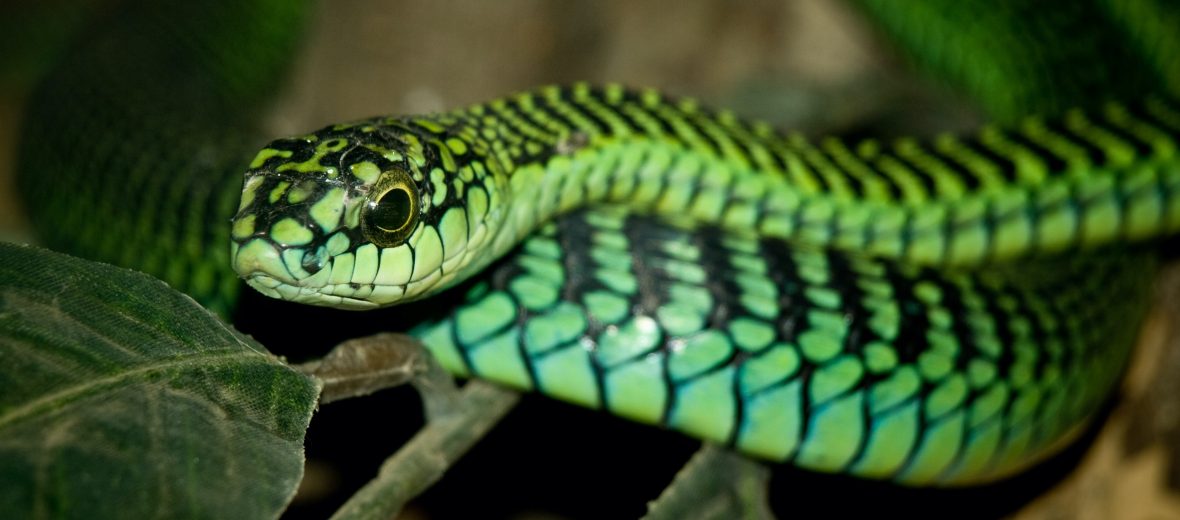 The boomslang is a venomous serpent that can be found in sub-Saharan Africa. They prefer savannahs, karoo shrubs, lowland forests, the central & eastern African plateaus, and various grasslands. Due to their widespread and stable populations, as well as no real threats, these snakes are listed as Least Concern by the IUCN. Enjoy Critter Science's 1,300th article!
First the Stats…
Scientific name: Dispholidus typus
Weight: Up to 1.124 lbs.
Length: Up to 6.56 feet
Lifespan: Up to 8 years
Now on to the Facts!
1.) Boomslangs are diurnal (active during the day).
2.) They are mostly arboreal (spend their lives in trees and shrubs).
3.) These snakes are solitary, like other snakes, and only come together to mate.
4.) When danger rears its ugly head, they are more inclined to flee than to stay and attack. But they will defend themselves if cornered.
5.) If they have to defend themselves, they will inflate their neck and take on an "S" shaped posture, in preparation for the strike.
But wait, there's more on the boomslang!
6.) A group of snakes is called a bed, den, knot, nest, or pit.
7.) If the weather gets too cold, they will brumate (hibernation for reptiles) for short periods.
Did you know…?
Their venom is hemotoxic (prevents the coagulation process of blood cells). Some of the effects of their venom include: nausea, sleepiness, headache, extensive bleeding, and even mental disorders. Death is a potential, especially if left untreated.
8.) These snakes are rear-fanged (their fangs are located to the rear of their mouth. But they can open their mouths up to 170°.
9.) The venom is slow to act and can sometimes take hours to affect the victim.
10.) An antivenom was created in the 1940s.
But wait, there's still more on the boomslang!
11.) Pathophysiological qualities are different with each snake, and this results in differing effects from the venom in each person.
12.) Without antivenom, a bite victim may have to receive a full blood transfusion to rid the body of the venom.
Did you know…?
Snakelets are not born venomous, unlike most other venomous snakes. They become fully venomous by the time they reach around 18 inches in length.
13.) Chameleons and a variety of other arboreal lizards, frogs, rats, mice, birds, and their eggs are all on the menu.
14.) These snakes are polygynandrous (promiscuous – males and females have multiple partners).
15.) Females are oviparous (lay eggs) unlike many other venomous snakes.
But wait, there's still a little more on the boomslang!
16.) The female is gravid (pregnant) for up to 8 weeks before laying up to 27 eggs.
17.) Eggs hatch in up to 3 months.
Now a Short Boomslang Video!
Be sure to share & comment below! Also, check out the Critter Science YouTube channel. Videos added regularly!
Want to suggest a critter for me to write about? Let me know here.
Photo credit: William Warby