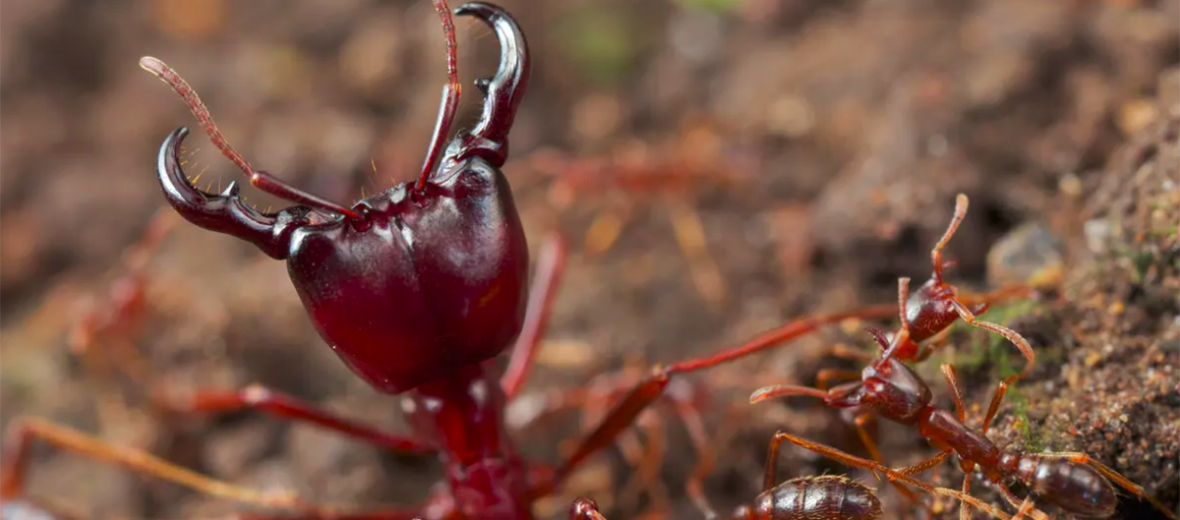 The driver ant, aka safari ant or siafu, is a force to be reckoned with. These ants can be found in central, southern, and eastern Africa, as well as in Asia. Workers tend to display caste polymorphism, in that they have very large heads that house the muscles which power their huge mandibles. These ants have a stable and strong population and are thus not evaluated by the IUCN.
First the Stats…
Scientific name: Dorylus
Weight: Up to .03 ounce
Length: Up to 2.4 inches
Lifespan: Up to 10- years, for queens | Up to 1,129 days, for workers
Now on to the Facts!
1.) The common name siafu is a loanword from Swahili and hails from the Bantu languages used by indigenous people to describe the various species of these critters.
2.) These ants are known to create temporary subterranean bivouacs (a nest created by living worker ant bodies, used to create a safe place for the queen).
3.) Soldiers measure up to half an inch long.
4.) The driver ant is a species of army ant.
5.) Driver ants are capable of stinging as well, but rarely do so; relying instead on their powerful bite.
But wait, there's more on the driver ant!
6.) As food becomes scarce, they will migrate to new locations to find food. These seasonal migrations can form paths of up to 50,000,000 ants that kill and eat nearly everything in their path!
7.) The bite of a soldier is very painful. Once they bite down, they are difficult to remove. You can literally cut 1 in half, or remove the body from the head, and it stays latched on!
Did you know…?
Colonies can contain up to 50+ million ants!
8.) Large amounts of these ants can kill small or immobilized animals and strip them down to the bone or husks.
9.) They prey on earthworms, various insects, mice, rats, lizards, amphibians, snakes, birds, and will even gladly attack people.
10.) As is the case with most ants, workers and soldiers are sterile females that do not reproduce.
But wait, there's still more on the driver ant!
11.) Males are sometimes termed sausage flies, as they have large, bloated abdomens.
Did you know…?
Some tribes use the soldier's powerful mandibles as a form of natural stitches. They allow the ant to bite the wound, then remove the body. This type of stitch can last for several days, until it is time to switch out the stitch or remove them.
12.) While migrating, these ants form a new bivouac each night and then form into raiding patrols the following day.
13.) While mobile, they can travel up to 65.6 feet per hour.
14.) After mating, the queen lays up to 1,000,000 eggs per month and about 250,000,000 eggs in her lifetime!
15.) These ants can traverse a wide range of terrain. They can climb rocks, walls, and trees. They can also travel across water by rafting (building rafts out of the bodies of workers and soldiers. They can also form bridges out of soldier and worker ants.
16.) Driver ants are blind and they navigate via pheromones.
Now a Short Driver Ant Video!
Want to suggest a critter for me to write about? Let me know here.
Be sure to share & comment below! Also, check out the Critter Science YouTube channel. Videos added regularly!