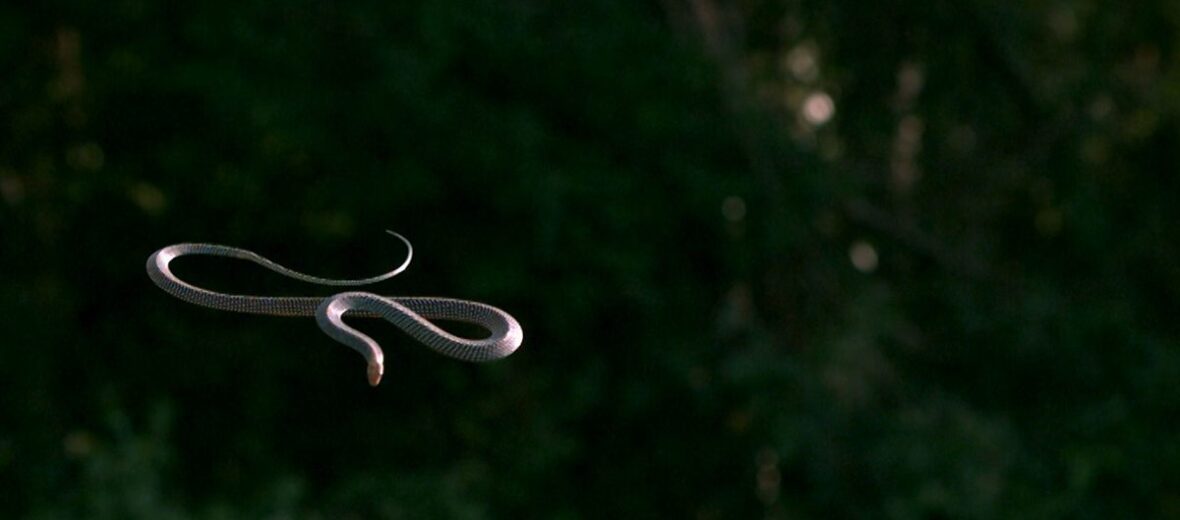 You heard that right: flying paradise tree snake. And I don't mean snakes on a plane. These snakes actually leap from tree to tree and glide through the air to get from place to place! You might be thinking that hopefully this is a rare oddity and what kind of "paradise" has flying snakes?! But come to south and southeast Asia, notably Singapore, and you'll get a glimpse of this phenomenon quite regularly. The paradise tree snake favors secondary forests, mangrove forests, as well as gardens and parks. Their favorite roost is in the crowns of coconut palms. Even though they are vulnerable at the hands of poaching for the pet trade and suffer from habitat loss, they are still listed as Least Concern by the IUCN.
First the Stats…
Scientific name: Chrysopelea paradisi
Weight: Up to 2 lbs.
Length: Up to 3 feet
Lifespan: Up to 10 years
Now on to the Facts!
1.) Flying tree snakes are diurnal (active during the day).
2.) Their favorite prey are tree dwelling lizards. They also prey on birds and bats.
3.) There are 5 known species of flying tree snakes.
4.) To clarify, they don't actually fly. They glide, like flying squirrels. But since they can't extend out 4 legs to stretch out a membrane, they flatten their ribs and whip about in an "S" like pattern to gain as much distance as they can.
5.) They can also be found slithering along the ground but, being arboreal (spend their lives in trees), they prefer to spend their time climbing and gliding from trees.
But wait, there's more on the paradise tree snake!
6.) Flying tree snakes are capable of gliding up to 300+ feet in a single jump.
7.) When landing, they will drop their tail down first, like landing gear. This softens the impact.
Did you know…?
These snakes can glide up to 30 feet per second!
8.) Females lay up to 11 eggs each breeding season.
9.) Even though they are venomous, they are actually fixed rear-fang venomous. Their venom is only meant to subdue their prey. It is actually harmless to humans and larger animals.
10.) They tend to go after smaller prey as not to weigh themselves down, preventing them from being able to get away from predators.
Now a Short Paradise Tree Snake Video!
Also, check out the Critter Science YouTube channel. Videos added frequently!
Want to suggest a critter for me to write about? Let me know here.
Learn more about all kinds of cool critters, right here!