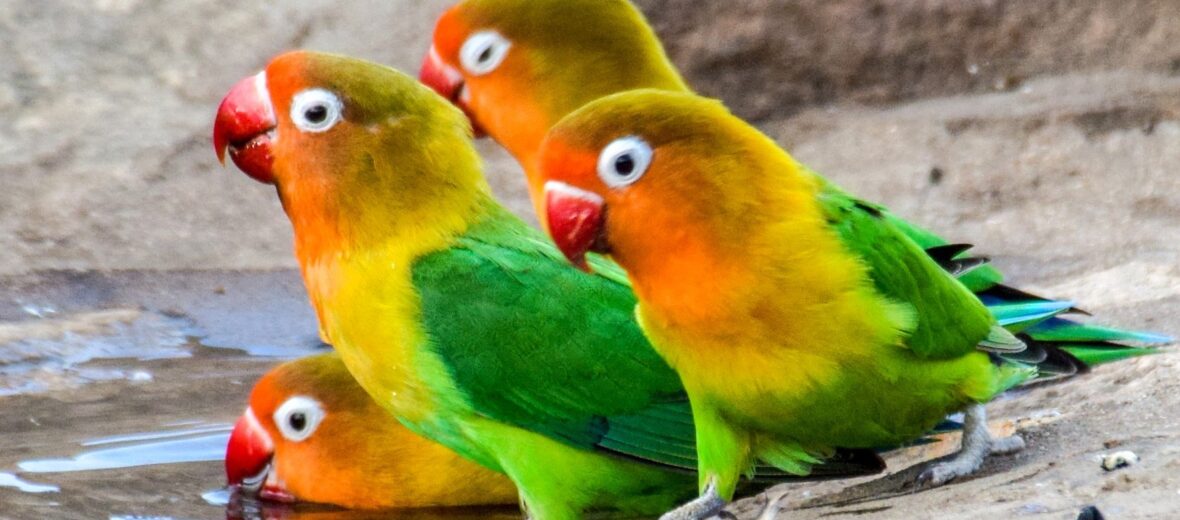 The Fischer's lovebird is a beautiful small parrot species from Africa that exhibits some truly bonding traits. First off, they mate for life. Secondly, they actually 'kiss' during their mating ritual. Actually, they exchange food via regurgitation. But hey, it looks like they're kissing anyways. Sadly, these cute little birds are listed as Near Threatened by the IUCN. This is due to habitat destruction and over collection for the pet trade.
First the Stats…
Scientific name: Agapornis fischeri
Weight: Up to 2 ounces
Height: Up to 6 inches
Wingspan: Up to 7 inches
Life span: Up to 25 years
Now on to the Facts!
1.) The Fischer's lovebird hails from north-central Tanzania, where they inhabit savannas, grasslands, woodlands, and scrub forests. They will also live in areas with crops and agriculture.
2.) Like so many other birds, these lovebirds are granivorous (eat seeds and grains).
3.) True to their name, love birds are monogamous (mate for life). They not only court in order to attract a mate, but they will continue to court one another throughout their lives.
4.) If a partner gets lost or dies the remaining lovebird will pine for them and exhibit odd behavior, similar to depression in humans. They have also been observed self harming due to being separated or being alone in captivity. So, if kept as a pet, it is always best to have at least 2.
5.) Like the loving couple that they are, they will often even feed each other!
But wait, there's more on the Fischer's lovebird!
6.) There are nine known species of lovebirds.
7.) Lovebirds are cavity dwellers they make their home in holes in trees, rocks or shrubs in the wild.
Did you know…?
Aggression isn't uncommon in lovebirds. The parrots are territorial, and are known to get along poorly with birds of another species.
8.) Some studies suggest that lovebirds can carry yeast bacteria (Cryptococcus neoformans) which is capable of infecting humans! However, they only pick up the bacteria if they come into contact with pigeon feces. Problem is easily solved, keep them away from pigeons.
Now a Short Fischer's Lovebird Video!
Want to suggest a critter for me to write about? Let me know here.
Learn more about all kinds of cool critters, right here!