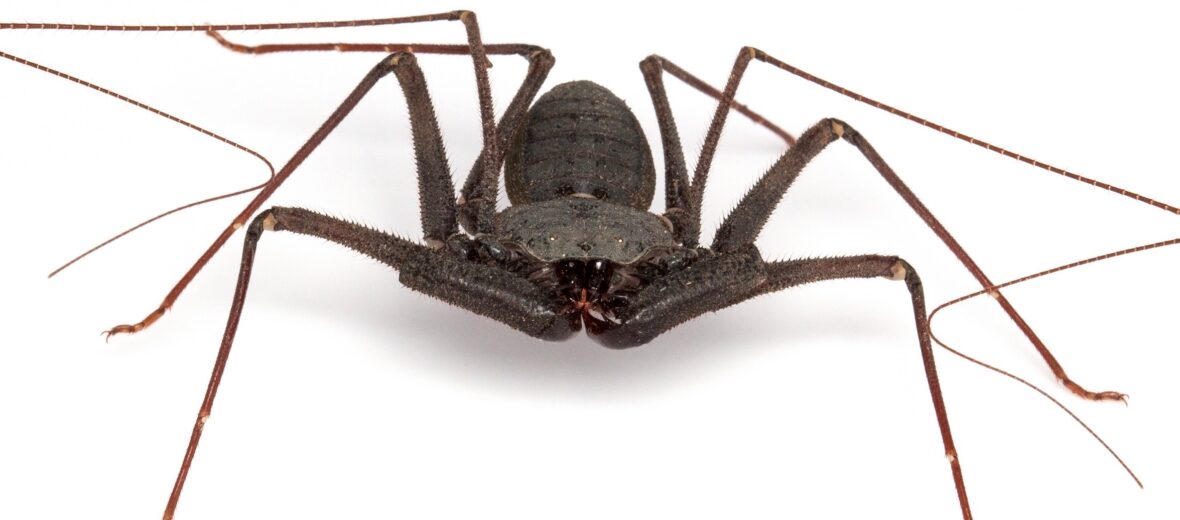 The tailless whip scorpion, aka the whip spider, looks a little like a cornucopia of different types of arachnids. With long, skinny legs they look like a spider, but nope. It's not a spider. Its first pair of legs end in antennae that are used to help it see and locate prey, as they can't see too well; even though they have multiple eyes. The large, scary-looking pedipalps look like giant, elongated claws. They look like scorpion's claws, but this critter has no metasoma (tail) or telson (stinger). So, nope, they aren't a scorpion. The pedipalps are used to capture prey as well as well as aid in grooming themselves. Even though they do have fangs or chelicerae, they only use them to tear their prey into small, bite-sized pieces. Then they lap up the masticated mush left behind. Yummy!
First the Stats…
Scientific name: Amblypygi
Length: Up to 2 inches
Legspan: Up t 20 inches
Lifespan: Up to 3 years
Now on to the Facts!
1.) The term "amblypygid" translates to "blunt rump".
2.) Even though they are arachnids, they are not spiders nor are they scorpions. They are in a class all their own.
3.) As mentioned before, they have very poor eyesight; even though they have several eyes. Kind of a cruel evolutionary joke, wouldn't you say?
4.) Like a crab, these critters move sideways, but fast! They can really bolt, if they need to.
5.) Their chelicerae release a digestive acidic enzyme that helps to break down their prey.
But wait, there's more on the tailless whip scorpion!
6.) Even though they are in the arachnid category, they have no venom and they can't spin webs.
7.) They eat any kind of insect. They also eat spiders too. Hey, why not?
Did you know…?
The tailless whip scorpion can run at bursts of over 1 foot per second!
8.) Tailless whip scorpions are nocturnal (active at night).
9.) Whip scorpions are found in the southern parts of North America, Mexico, Central and South America; as well as Asia and Africa.
10.) Females carry their eggs under her abdomen. Once the eggs hatch, the young tailless whip scorpions hitch a ride on mom's back for up to a week before leaving home and starting life on their own.
Now a Short Tailless Whip Scorpion Video!
Also, check out the Critter Science YouTube channel. Videos added frequently!
Want to suggest a critter for me to write about? Let me know here.
Learn more about all kinds of cool critters, right here!