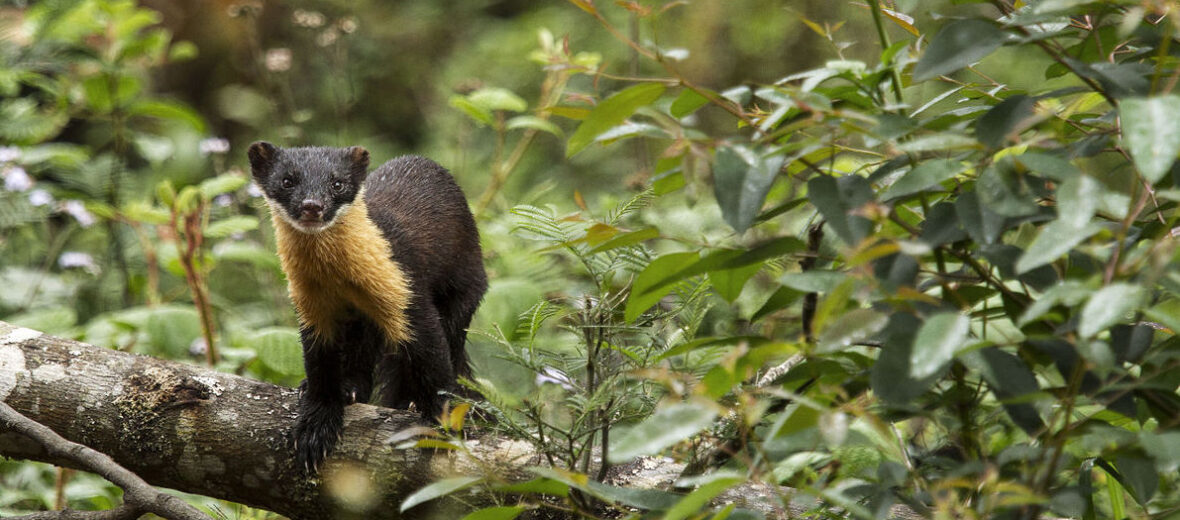 The Nilgiri marten can only be found in southern India. They like evergreen forests, montane forests, grassland mosaics, acacia, coffee, tea, cardamom, and wattle plantations. They are skilled hunters that are beneficial to rodent population control. Sadly, due to hunting, trapping, habitat destruction, human interference, and vehicle strike (being hit by vehicles) they now only number around 1,000. They are listed as Vulnerable by the IUCN.
First the Stats…
Scientific name: Martes gwatkinsii
Weight: Up to 4.5 lbs.
Length: Up to 1.7 feet, plus up to a 12 inch tail
Lifespan: Up to 15 years
Now on to the Facts!
1.) Nilgriri martens are Diurnal (active during the day).
2.) These critters are social and stick together in small groups.
3.) They will cooperatively hunt in groups.
4.) Nilgiris are primarily Arboreal (spend most of their lives in trees). However, they do descend to the ground, at times.
5.) A group of martens is sometimes called a richness or a richesse.
But wait, there's more on the Nilgiri marten!
6.) These Omnivores (eat plant and animal matter) feast on rats, mice, birds, and insects (cicadas are a favorite), and various fruit. They have also been seen attempting to take down a mouse deer.
7.) Due to their diet of fruit, these martens are an important keystone animal, in that their feces (poop) helps germinate new seed growth and they help control rodent populations.
Did you know…?
They are named after the collector Reynolds Gwatkins who gave a specimen to Colonel W.H. Sykes.
8.) Due to the fact that they can, in lean times, prey on chickens, they are sometimes trapped and killed by farmers.
9.) These critters have no natural predators, sans humans.
10.) Although the breeding habits are not fully understood, it is assumed that females birth up to 3 kits, after up to a 9 month Gestation (pregnancy). This is based, in part, on observations or other marten species.
Now a Short Nilgiri Marten Video!
Be sure to share & comment below! Also, check out the Critter Science YouTube channel. Videos added frequently!
Want to suggest a critter for me to write about? Let me know here.
Learn more about all kinds of cool critters, right here!