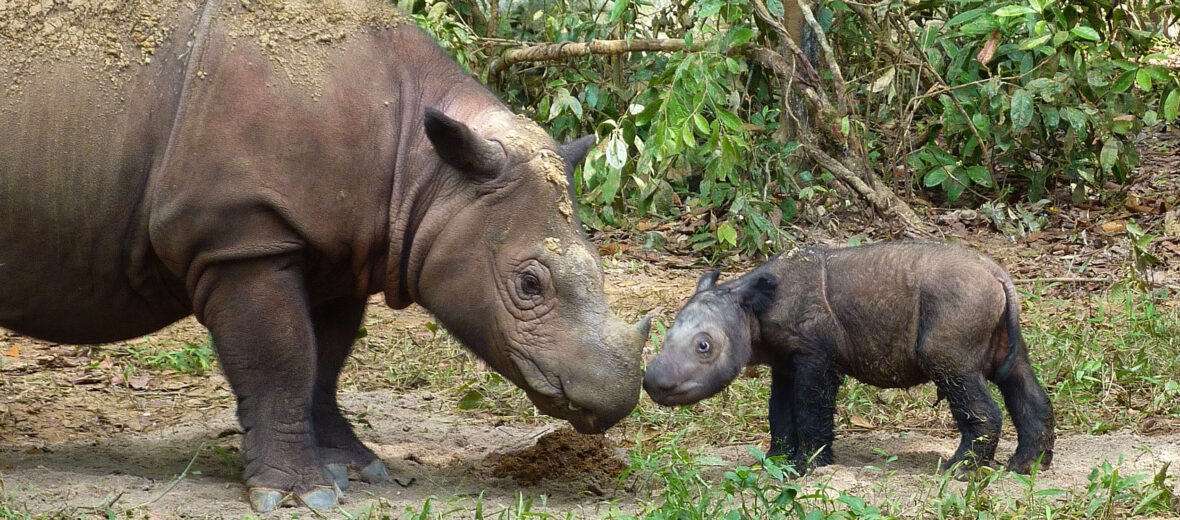 The Sumatran rhinoceros is the smallest of the 3 Asiatic rhino species. They are also listed as Critically Endangered, due to habitat destruction, poaching, and climate change (drought), as recorded by the IUCN. These rhinos go by the names of hairy rhinos and Asian 2-horned rhinos. Sumatran rhinos like areas of tropical rainforests with foothills, on the Indonesian island of the Kalimantan province of Borneo and Sumatra. Unfortunately, their species is dwindling more and more each year.
First the Stats…
Scientific name: Dicerorhinus sumatrensis
Weight: Up to Up to 1,760+ lbs.
Length: Up to 8.2+ feet
Height: Up to 4.76+ feet, at the shoulders
Lifespan: Up to 40 years
Now on to the Facts!
1.) These rhinoceroses eat leaves, twigs, bark, and fruit from various plants.
2.) They typically dine at dawn and dusk, making them crepuscular.
3.) They mark their territory with urine, feces (poop), and soil clumps. These serve as visual as well as olfactory signs for other rhinos.
4.) Besides physical communication, they also communicate via whistling, eeps, whining noises, and waling.
5.) Unlike other Asian rhinos, these critters have 2 horns. They have a larger anterior horn, located towards the tip of their nose and a smaller posterior horn, located between their eyes.
But wait, there's more on the Sumatran rhinoceros!
6.) The Sumatran loves to wallow in mud, pretty much all day. The mud helps to keep them cool during the hot days.
7.) Males are polygynous (mate with multiple females).
Did you know…?
The closest relative is the extinct Woolly rhino (Coelodonta antiquitatis). The Sumatran rhino is the only living member of a primitive group of rhinos, called the Dicerorhinini which lived in the Miocene period (15 – 20 million years ago).
8.) Females birth a single calf roughly every 3 – 4 years.
9.) gestation (pregnancy) lasts between 12 – 16 months.
10.) Calves typically stay with their mother till they are 2 – 3 years old. They reach maturity by 7 – 8 years old.
But wait, there's still more on the Sumatran rhinoceros!
11.) Sumatrans are typically solitary, except for females with their calf and during mating season, when the female is in oestrous (heat).
12.) These rhinos typically roam about at night, when it's cool; making them not only crepuscular, but nocturnal as well.
13.) Like all rhinos, their horns are made up of keratin, like our hair and fingernails.
14.) Eating up to 110 lbs. of food a day comes easy to these wonderful animals.
Now a Short Sumatran Rhinoceros Video!
Also, check out the Critter Science YouTube channel. Videos added frequently!
Want to suggest a critter for me to write about? Let me know here.
Learn more about all kinds of cool critters, right here!