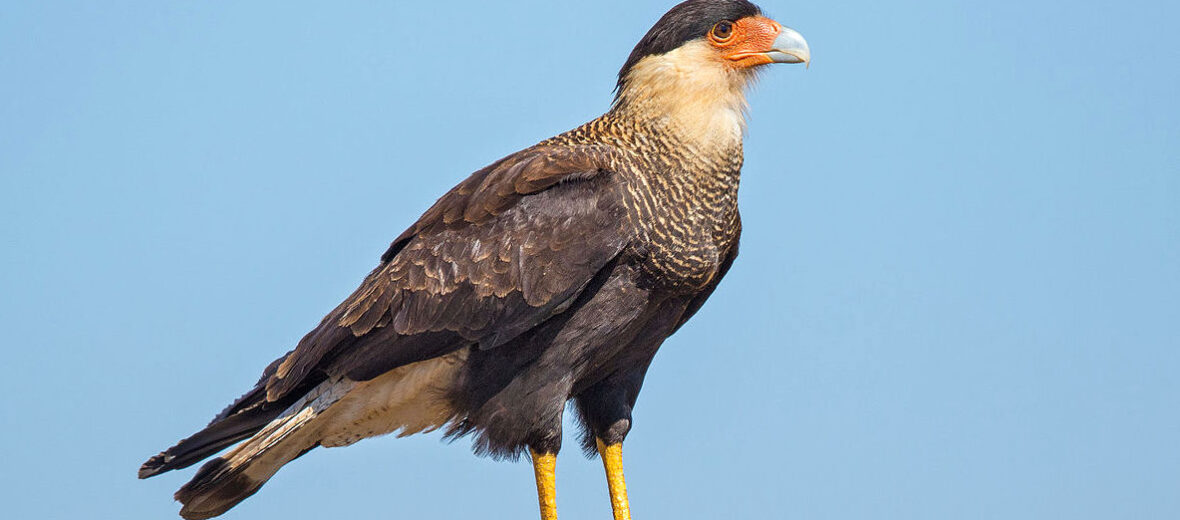 The crested caracara, aka Audubon's caracara, northern caracara, northern crested caracara, Mexican buzzard, or Mexican eagle, can be spotted in the southern most tips of the United States, throughout Mexico, Central America, and South America. These birds prefer to dwell in dry open areas, with few trees but generally scarce vegetation, like river edges, savannahs, and pastures; however, they can also be found in forest and march habitats. With no major threats and an increasing population, these birds are listed as Least Concern by the IUCN.
First the Stats…
Scientific name: Caracara cheriway
Weight: Up to 3.5 lbs.
Length: Up to 26 inches
Wingspan: Up to 52 inches
Lifespan: Up to 30 years
Now on to the Facts!
1.) Crested caracaras are typically solitary birds, but they can be found feeding in groups of up to 60 individuals.
2.) A group of caracaras is called a bazaar, eyrie, ringing up, stooping up, or tower.
3.) These birds predominantly feed on carrion (dead animals), but they will also prey on amphibians, reptiles, insects, various invertebrates, fish, mammals, birds, and eggs.
4.) The crested caracara also engages in kleptoparasitism (stealing food from other animals – in this case, birds). They have been documented harassing and stealing food from birds like red-tailed hawks and vultures alike.
5.) Even though they are strong flyers, they tend to spend much of their time walking on the ground.
But wait, there's more on the crested caracara!
6.) Like vultures and falcons, these birds are diurnal (active during the day).
7.) These birds are monogamous (mate for life).
Did you know…?
Crested caracaras will sometimes follow trains or other vehicles to pick off discarded food.
8.) During mating season, these birds become very territorial. Males will defend their nest site via aerial fights.
9.) They use the same nest each season, adding more to it each year.
10.) Females lay up to 3 eggs that hatch in up to 32 days.
But wait, there's still more on the crested caracara!
11.) Being loyal parents, both the male and female participate in rearing and protecting their young.
12.) Even though the golden eagle is the national bird of Mexico, it is widely believed that it is the crested caracara depicted on the Aztec pictogram, on the Mexican flag.
13.) Known as head-throwback displaying, these critters will throw their head back and produce a cackling, rattling sound. This is typically a response to threats.
Now a Short Crested Caracara Video!
Also, check out the Critter Science YouTube channel. Videos added frequently!
Want to suggest a critter for me to write about? Let me know here.
Learn more about all kinds of cool critters, right here!