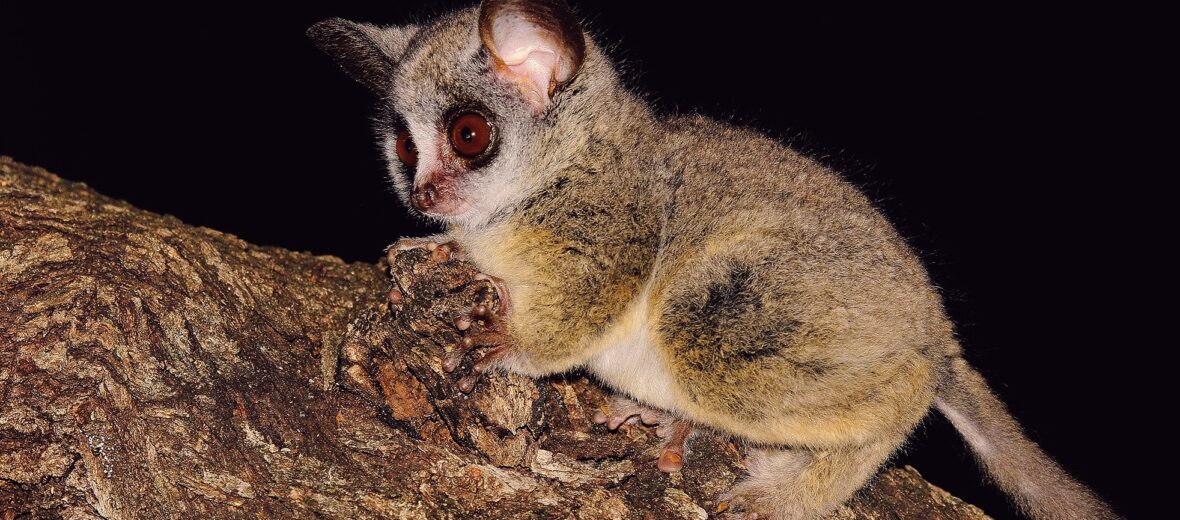 The bushbaby, aka galago or nagapies (which means 'little night monkeys' in Afrikaans – a language spoken in South Africa), are not only cute as heck but are small nocturnal (active at night) primates native to continental Africa. Bushbabies get their name due to the loud noises they can make that sound much like a crying baby. Based on the species, they are listed as Least Concern to Endangered. Their primary threats are habitat loss and over collection for the exotic pet trade.
First the Stats…
Scientific name: Galagidae
Weight: Up to 2.1 lbs.
Length: Up to 18 inches
Lifespan: Up to 10 years
Now on to the Facts!
1.) A bushbaby's fur ranges from silver grey to dark brown colored.
2.) The bushbaby has a wide range of calls from grunts to clicks to crackles. When they really want to let loose, they make a loud call that sounds like a baby's cry.
3.) Bushbabies are Omnivores (eat both plant and animal matter). They typically eat fruit and acacia gum, but are also very quick and accurate hunters of insects and even small mammals!
4.) Males will check to see if the female is receptive to breeding by sniffing her genitals. The female will typically reject the male quite aggressively.
5.) Females will tend to their young solely, for 3 days. After that, the young are weaned off their mother by about 6 weeks of age.
But wait, there's more on the bushbaby!
6.) Like lemurs, a bushbaby will mark its territory by urine washing. This means that they will engage in urinating on their hands and feet and rubbing them together. Then they rub their urine-soaked hands and feet on limbs and branches.
7.) They live in groups of 6 or more. 1 male and several females, with their young.
Did you know…?
Bushbabies can jump up to 20 feet!
8.) They are preyed on by snakes, owls, African wildcats, servals, and genets.
9.) Bushbabies are often sold as pets, but don't make good pets for anyone lacking extensive zoological experience and the necessary requirements for habitation. They are often sold individually and they tend to fail to thrive as they are best kept in the wild, in zoos, and in groups.
10.) The bushbaby has a second tongue! It is situated below their normal tongue and is used in conjunction with their front teeth for grooming.
Now a Short Bushbaby Video!
Now a short clip of a bushbaby calling.
Also, check out the Critter Science YouTube channel. Videos added frequently!
Want to suggest a critter for me to write about? Let me know here.
Learn more about all kinds of cool critters, right here!