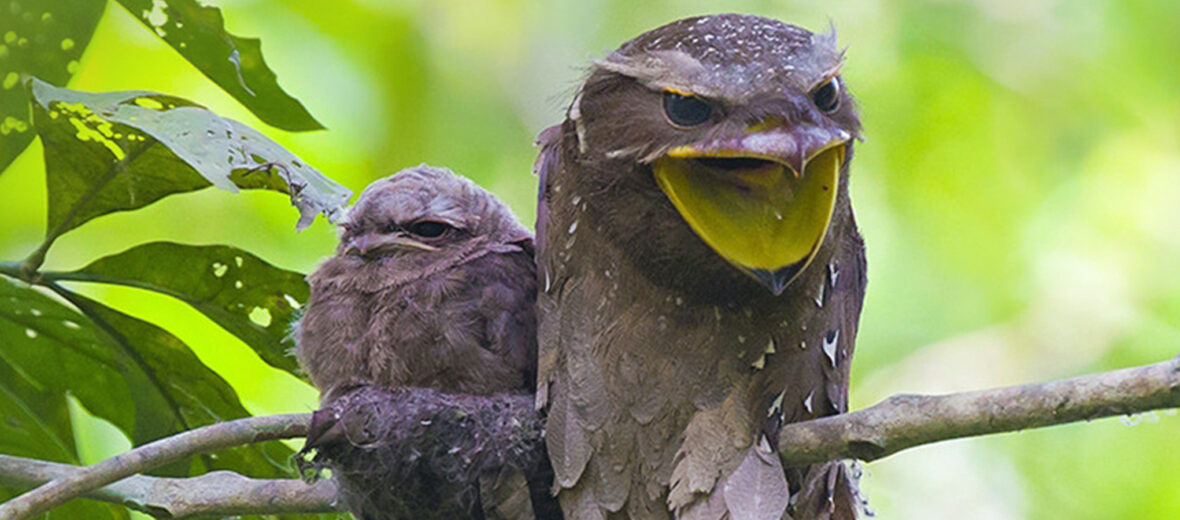 The tawny frogmouth belongs to the nightjar family, although it looks like an awful lot like an owl. There are 3 subspecies of frogmouth that are found in Australia, Tasmania, and Papua New Guinea. The frogmouth inhabits scrublands and open forests of eucalyptus and also acacia. There are about 14 known frogmouth species.
First the Stats…
Scientific name: Podargidae
Weight: Up to 1.5 lbs.
Length: Up to 21 inches
Wingspan: Up to 38.5 inches
Lifespan: Up to 14 years
Now on to the Facts!
1.) These birds are primarily nocturnal (active at night) but have been observed to be crepuscular (active at dawn and dusk).
2.) Their main predators are dogs, cats, and foxes.
3.) Tawny frogmouths primarily eat nocturnal insects, slugs, worms, snails, small mammals, frogs, reptiles, and even other birds.
4.) Frogmouths produce a soft, deep, and continuous low "oom oom oom". They also make a loud hissing noise when they feel threatened.
5.) The tips of their wings, like owls, are fringed to allow for silent flight.
But wait, there's more on the tawny frogmouth!
6.) They are monogamous (mate for life).
7.) Mating season lasts from August to December.
Did you know…?
They are able to hold perfectly still during the day and blend in seamlessly with trees they perch on; making them indistinguishable from fence posts or tree branches.
8.) Females lay 1 – 3 eggs that incubate for up to 30 days.
9.) The tawny frogmouth is listed by the IUCN as a species of Least Concern.
10.) Other names for these birds are the freckled frogmouth, mopoke, and tawny-shouldered frogmouth.
Now a Short Tawny Frogmouth Video!
Also, check out the Critter Science YouTube channel. Videos added frequently!
Want to suggest a critter for me to write about? Let me know here.
Learn more about all kinds of cool critters, right here!