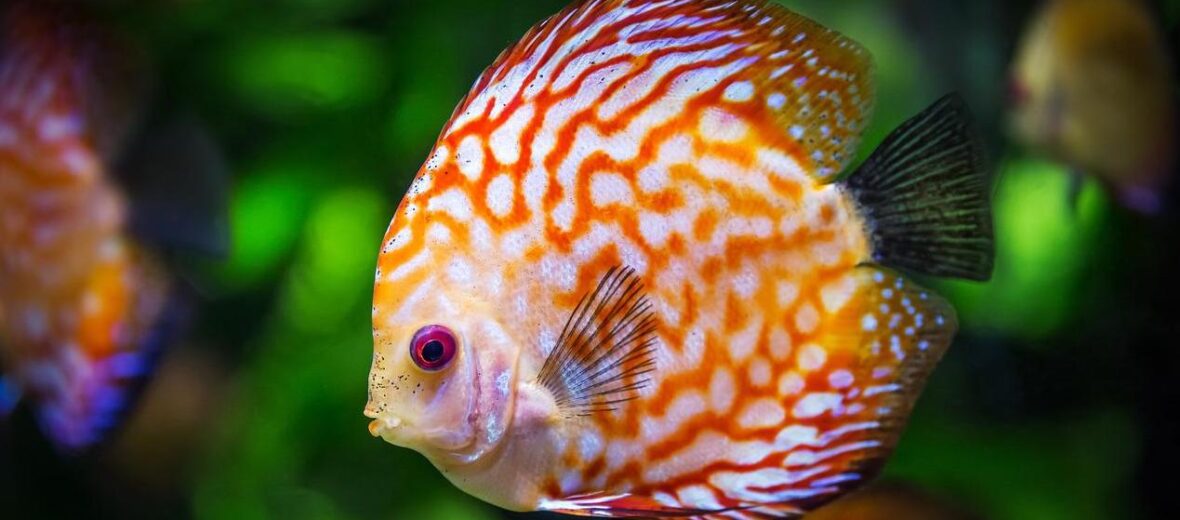 The discus, aka pompadour fish, is a genus of cichlid native to the Amazonian river basin in South America. These fish are prized in the aquarium industry due to their behaviors, body shape, and amazing colors and patterns. The discus fish keeping hobby is a multi-million dollar international industry, with competitions and prizes for best looking fish and accolades for best breeders. These fish still have a stable population and are bred readily in captivity, thus their listing as Least Concern by the IUCN. This article is dedicated to my friend Aaron.
First the Stats…
Scientific name: Symphysodon
Weight: Up to 8.81 ounces
Length: Up to 7.87 inches
Lifespan: Up to 10 years
Now on to the Facts!
1.) These fish are highly social and can be found in groups, in the wild, as large as several dozen individuals.
2.) Discus feed on algae, other plant material, detritus (dead, particulate, organic matter), and small invertebrates.
3.) In the wild, during the high water periods of the year, they will feed on invertebrates, while during the low water months, they tend to feed on plant matter.
4.) They can be found, in the wild, in both black water (transparent and acidic water that is stained dark, like tea) and white water (water with high levels of sediment, a neutral PH, and high electrical conductivity, with a pale coffee & cream color) environments.
5.) In home aquariums, these fish are difficult to keep and require a higher level of aquarist experience. Specific PH, higher than normal water temperatures, and general water chemistry are all required to be regularly monitored for successful healthy fish. Not to mention the fact that they need, at minimum, a 75 gallon aquarium, due to their ultimate size.
But wait, there's more on the discus!
6.) A great many of these fish are bred in fish farms located in southeast Asia.
7.) When breeding, the mated pair will move away from the main school to birth their young, to limit cannibalism.
Did you know…?
Every year the World Discus competition takes place in Guangzhou, China. Awards are given to the keepers with the most prized fish.
8.) Females lay upwards of 400 eggs that hatch in just 2 days.
9.) Both parents partake in the rearing of their young.
10.) Adult discus produce a special secretion from their skin, which the larvae live on during their first 4 weeks of life.
But wait, there's still more on the discus!
11.) After the first 2 weeks, the parents begin swimming away from their young, in order to ween them off of feeding from their parents. This causes the young to become self-sufficient and feed on their own.
12.) The discus reaches sexual maturity in a year.
13.) Discus are diurnal (active during the day).
14.) In their Amazonian habitats, these fish are preyed on by larger fish, crocodilians, birds, various mammals, and even each other.
Now a Short Discus Video!
Be sure to share & comment below! Also, check out the Critter Science YouTube channel. Videos added frequently!
Want to suggest a critter for me to write about? Let me know here.
Learn more about all kinds of cool critters, right here!